By Laurie Appleby
Our much-anticipated Wrangler Reunion was held at the A/U Ranches this past August during Adult Mini Camp. More than 40 former wranglers and cowboy/cowgirl camp participants from many decades returned to share memories, friendship and their mutual love for horses.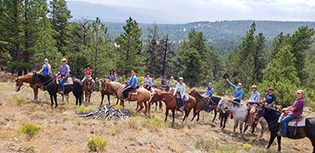 The A/U Ranches' expert horsemanship guides, Lachlan and Linda Clarke, provided these alumni with experiences that included cattle working, gymkhana, polocrosse, cowboy-mounted shooting and a roping demo. Dave Stamey, a singing cowboy, serenaded participants during a lovely evening that included a silent and live auction.
"I loved being a part of the Wrangler Reunion and have loved all my experiences with the A/U Ranches and Adventure Unlimited," says Harriett Gantzer Westman, who participated in the reunion. "It has always been close to my heart and brought me closer to Christian Science when I was working with all the wonderful staff and campers when I was a teenager. It has stayed with me all these years, and I am so grateful I am able to contribute to that wonderful place and help make someone else's experience last a lifetime."
Alumnus Don Gregory also came to the reunion and was amazed at the quality of the program since he'd been a camper. "This was a great time, like coming home again – a great meeting with old friends and making new ones," Don says. "I saw firsthand how well the horse program has been improved and upgraded. It was a pleasure to ride up the mountain, after about 30 years. There was lots of renewal of amazing feelings and inspiration unique to the A/U Ranches in that beautiful, familiar setting in the Colorado Rockies. I hope to go again to the next one."
Not only did the wranglers reunite and connect during the week, but many also stepped up and gave back to the Horsemanship program by being generous bidders in the silent and live auctions. Because of these wranglers and other Mini Camp guests, more than $11,000 was raised at the auction, which will allow for the purchase of a much-needed windbreak for the horses. As cold weather approaches and the winds blow all winter long, this windbreak will protect the herd – especially our cherished, more mature horses.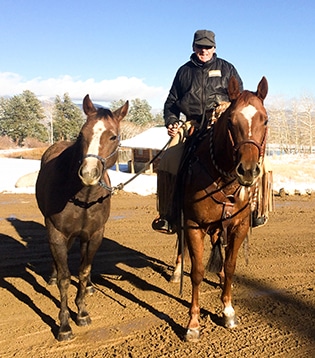 In addition to the auction proceeds, generous donors made a difference by completely funding a new horse care barn, an arena groomer, and the purchase of a new filly to add to our beautiful herd. A total of $140,886 raised at the reunion will go directly to the Horsemanship program and horse-related needs.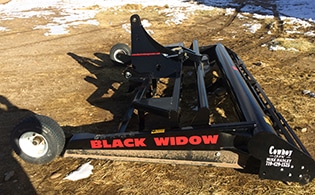 These wranglers connected over the past, but truly helped to sustain the future of the A/U Ranches horsemanship program. For this, we say thank you!
Check out more photos from the Wrangler Reunion and Adult Mini Camp here.
Don't miss out on updates from the A/U Ranches, including the new Horse Care Barn! Follow us on social media, including in the A/U-DB Alumni Facebook Group.