From capture the flag on horseback to polocrosse and rodeo, a lot has changed in the A/U Ranches' horsemanship program over the years. One thing hasn't changed, though: our love of our horses.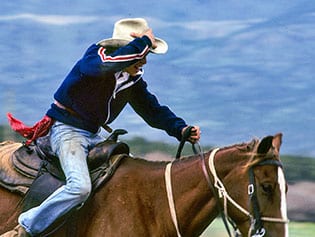 What was the name of your horse at camp? What was your favorite activity with him or her? Come share your experience with fellow wranglers at the A/U Ranches this August at the Wrangler Reunion, held during Adult Mini Camp. We'd love to introduce you to the next generation of horses!
Here's a look at some of the activities we're planning for the reunion:
Cattle working
Trail rides
Campfire stories
All-day rides to Columbia Basin and Bassam
Cowboy singer Dave Stamey (evening entertainment)
Polocrosse
Gymkhana
Cowboy-mounted shooting demo
Roping demo
All-camp testimony meeting
Shooting match
Variety show
Who's coming?
All former wranglers, corral staff, Horsemanship campers and Adult/Cowboy/Cowgirl program participants: Start making your plans now! If you don't, you'll miss seeing these folks:
| | | |
| --- | --- | --- |
| Don Appleby | Laurie Appleby | Moffet Zoe Atcheson |
| Chelsea Beisel | Rob Boucher | Duncan Clarke |
| Lachlan Clarke | Linda Clarke | Kenny D'Evelyn |
| Sam Hopple | Pete Husak | Matthew Leon |
| Nicole Linehan | Dustin Monie | Clara Oyer |
| Emma Oyer | Kiersten Sheehan | Rusty Signor |
| Jimmy Williams | Anna Wolfe | …and more! |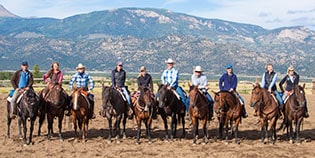 When is it?
The Wrangler Reunion will be held during Mini Camp:
Full program: Monday, August 20, 2018 – Sunday, August 26, 2018 ($875)
Half programs: August 20-23, 2018 or August 23-26, 2018 ($550)
Of course, if you know someone who prefers a hiking boot to a riding boot, there are plenty of great non-corral activities at Adult Mini Camp for anyone 18 or older.
See y'all in August!