By Carol Ames Sewell
Although I have not made it back in decades to the A/U Ranches, I have fond memories of attending one summer of Youth Camp and two winter Ski Stampedes between Christmas and New Year's Day in the mid-1970s. During that same time, I was grateful to be an active member and officer of what was then called the Dallas Chapter of the A/U Teen Council.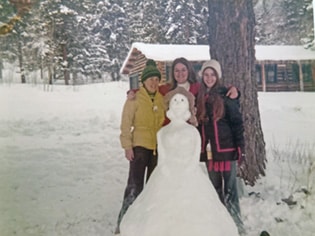 The things I learned during my youthful association with Adventure Unlimited, and one healing day in particular that I had at camp, have been important landmarks on my spiritual journey that motivated me to continue to support these programs financially in some small way throughout the intervening years.
Healing #1: Overcoming altitude
The first healing on that day was of dealing with the altitude while climbing Mt. Yale. I vividly remember hiking to what someone then called the "saddleback" (a place above the tree line but not yet to the boulder field on top at the peak), when it was harder and harder to force myself to take another step.  I felt unable to catch my breath and my legs soon felt unable to walk another step.  
I sat down on a rock, feeling I couldn't continue.  I really wanted to make it to the summit, but never having lived in the mountains and only being a casual walker with no hiking experience, I felt exhausted.  I was so disappointed to come so close to the top and then run out of steam that I felt like crying.
A couple of friends of mine from my Fifth Church of Christ, Scientist, Sunday School class in Dallas, Texas and a camp counselor stopped to talk with me. I told them I really didn't think I could walk any further. Not wanting to hold up the entire group, I said I would sit there and watch the others climb to the top of the summit since we were close enough that I would have a continuously unobstructed view. 
The counselor shared some metaphysical thoughts with me. Then, at my insistence, they rejoined the temporarily stopped group and slowly continued the ascent.  My two friends from Texas stayed with me, sharing truths with me. I was soon able to catch my breath, but I still felt so very tired. 
Suddenly, both my friends stood up and said, "We'll help you! The two of us will walk together with you." At first I demurred, thinking I would slow them down and be a bother, but they insisted.  So I hesitantly stood up with one friend on each side of me, my arms on their shoulders and their arms linked around my waist. We began to walk.
They began singing as I slowly put one foot in front of the other – hymns like, "Shepherd, show me how to go" (hymn 304 by Mary Baker Eddy), "I walk with Love along the way" (hymn 139) and "This is the day the Lord hath made" (hymn 342). Mostly, I remember feeling so much love. I was so grateful for all the love that was being shown to me, especially by these two friends, who slowed their own ascent to help me.  
As I continued walking slowly, one step at a time, I began to sing the hymns I loved and had memorized with them. Soon I was walking faster, and then I was able to tell my friends they could unwrap their arms from around my waist and I could continue on myself.  Love, prayer and hymns gave me a second wind to climb the remaining boulder field to the summit and sign my name in a logbook that was at the top of Mt. Yale at that time. What a joyous climb it was, powered by divine Truth, Life and Love!
Healing #2: Overcoming hypothermia
Later that night, I had my second healing. As we descended Mt. Yale, the beautiful day turned dark and cloudy, and a cold north wind began to blow. The lead counselor told us we needed to walk down as quickly as possible because of the ominous approaching storm. We all began walking a lot faster, and almost running in places that were not too steep, down the mountain trail.  
First, light rain and then snowflakes began to fall, which I later learned can easily happen in June in the Rockies. The temperature began to plummet into the 30s or 40s. Since we had started out on such a nice day in the high 60s or low 70s, it had been suggested that we wear some kind of shorts we could hike in and to bring a jacket with us, as well as wearing shoes we could hike in. 
When we reached the place where the trucks that we had come in were parked, it was snowing quite heavily. I had on shorts, a light top and a high school letter jacket with no head gear or gloves. I began to feel very cold. At that time, before seat belt laws, we had been driven to the base of Mt. Yale in what looked like a cattle truck to me at the time. It had tall wooden slats on the sides and back, and as I recall we were transported standing in the back of this clean, but "open air" vehicle, holding on to the slats.  
The wind chill driving back to camp in the open air truck felt freezing. After dinner, we were to have some kind of a speaker or presentation. As I sat on the floor, waiting for the program to begin, I began to feel increasingly unwell, so I abruptly left and walked back to my cabin. (In later years, I learned the symptoms I had were those of hypothermia.)
My cabin counselor saw me leave the lodge and came back to the cabin to check on me. I felt very ill and could not seem to stop shaking. She stayed with me, and another counselor came in as well. They were voicing truths of how much God loved me. My counselor reminded me that God alone, and not wind, weather, cold, snow or altitude, could be a cause since God was omnipotent, all powerful. She affirmed to me that God was the only cause and creator, and I could never be less than God's perfect child. So after her comforting prayers and reassurances, I slowly stopped shaking and fell asleep in my bunk. I awoke the next morning totally free of the symptoms of hypothermia. 
Love for Christian Science
These were defining times for me as a teenager. The healings at the A/U Ranches, and also some I had at a younger age at CedarS Camp, stuck with me as firsthand proof that God was my "refuge and strength, a very present help in trouble." Having these healings in my youth, far from home, were foundational for me. I felt I had proved to myself in some degree the power of scientific prayer as taught in Christian Science. These experiences also proved to me the healing and supporting power of divine Love in whatever form it takes, wherever we are.  
In fact, I feel that seeing Christian Science practiced in action at the A/U Ranches and in local chapter events, as well as earlier in my childhood at the CedarS Camps, cemented my lifelong commitment to Christian Science.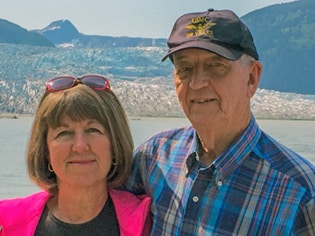 Since that time, I completed college, got married, had three sons, took a two-week course of Christian Science class instruction, and have been a member of four branch churches in Texas (I've moved around the state over the years). 
Nothing makes a stronger, undeniable impression on a young person than being healed through their own prayers or the prayers of those around them. I am so very grateful for my experiences attending Adventure Unlimited (as well as CedarS) Christian Science camps.
Do you have a story that inspires your giving to Adventure Unlimited? We'd love to hear it! Send it to [email protected].