Many campers in the A/U Ranches Horsemanship program will tell you – and their parents will confirm this – that their skills on horseback developed significantly through their participation. In fact, this program has been taking riders to the next level of skill and accomplishment for decades.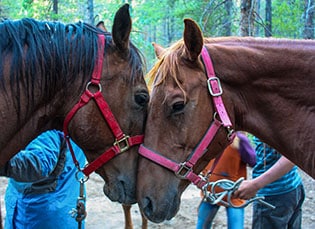 An incredible opportunity like this for both kids and adults comes at significant cost. Corral alumni thinking about this year's Wrangler Reunion (August 20-26) – and the special memories it surfaces – might wonder what's needed for Horsemanship, both to cover its expenses each year and to bring the essential facilities and equipment up to the standard of a program of this quality.
Since you asked…
Capital Needs: Advancing the Corral
"It's hard to believe there's never been a building where horses receiving Christian Science treatment and in need of practical nursing can be taken and where horse care is the primary function," says the A/U Ranches' horsemanship director, Lachlan Clarke. There are a lot of reasons why this building is a critical need, and Lachlan discusses them on page 3 of this newsletter.
Along with the building (listed first below), other basic capital improvements are needed:
Horse care barn ($75,000; $100,000 already raised)
Dirt for Round-Up arena ($25,000)
Trap shade structures ($15,000)
Trap windbreak ($10,000)
Tack house renovation ($10,000)
Arena groomer ($10,000)
Sky Valley hay barn renovation ($10,000)
Click here to support any of these capital needs through Adventure Unlimited's Bridges to the Future Campaign. To donate to the horse care barn, choose Campaign Fund > Horse Care Barn. To make a gift in support of all of these needs, choose Capital Projects > Horsemanship: Advance the Corral.
Annual Needs: Day to day
It's difficult to imagine the A/U Ranches without horses, but the only way we're able to maintain our herd is through operational support from donors. This allows, among other things, horses to be fed, facilities to be maintained and buckaroos to have the summer of their dreams. The Wrangler Reunion goal for Horsemanship is $72,500.
Click here to donate to Operations > A/U Ranches Horsemanship
Another way to support this program is to adopt a horse. With an annual gift of $1,800 or a monthly gift of $150, you can provide for a horse's needs throughout the year, such as hay, grain, care, shoeing and training.
Click here to adopt a horse
The Wrangler Reunion
The reunion at the A/U Ranches will be a roaring good time – so come on out! If you can't join us in person, though, you can still bid against your fellow wranglers on some terrific items in our silent and live auctions. Bidding starts August 16 and ends at our event on August 23.
Click here for instructions on how to bid using the Handbid app
Showing Our Gratitude
Wranglers enjoy having something to "shoot" for, right? When you give to the Horsemanship program by October 31, 2018, you'll be part of one of these donor groups that receives a special acknowledgement of your support:
Golden Horseshoe (<$100): Your name on a horseshoe, displayed on our Wall of Fame in the soon-to-be-built Horse Care Barn
Listens to the Wind ($100-$499): Leather key chain with A/U Ranches logo
Old Prospector ($500-$999): Your name engraved on a current saddle
Comancheros ($1,000-$4,999): Leather water bottle holder engraved with your name
The Buckle ($5,000-$9,999): Brass belt buckle with A/U brand
Top Hand ($10,000-$49,999): Silver key chain engraved with your initial
Head Wrangler ($50,000+): One week at Adult Mini Camp or Family Camp at the A/U Ranches for two people
"What you can learn about yourself, God and spirituality through working with horses are lifelong lessons," says alumnus and supporter Don Appleby, who plans to attend the Wrangler Reunion. "The Horsemanship program is a big part of why the A/U Ranches have stood the test of time for more than 60 years."