By Brittany Richardson Maples, National Alumni Board
My first time on a horse was at a state fair when I was around two or three years old. The horse's name was Mister Ed, and I insisted on riding him all by myself without my mom holding me. I was immediately hooked!
Fast forward a few years to my first time at the A/U Ranches. I was nervous to be so far from home (I grew up in Iowa), but my mom was there as a bunkhouse parent, so I knew I would be all right. Not only did I get to ride horses for two whole weeks, but I got to be around tons of other kids who were Christian Scientists! This was a big change for me, coming from a Sunday School of only two or three kids, including me.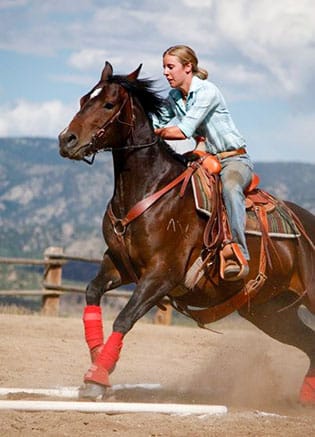 I don't remember a lot from those early camp years, but I do remember the excitement of finding a rock on my pillow signaling that, later that day, Listens to the Wind and the Old Prospector would come to tell each of us who our horse would be for the session. It was such a fun time, getting woken up in what felt like the middle of the night, huddling together to stay warm on the balcony at Chuckwagon Lodge, hearing the counselors shouting whether they could "see the light" or not, capped by the piece of parchment that contained the names of our horses read aloud.
I loved my five years at camp between Sky Valley Ranch and Round-Up Ranch and learned many skills as a horseback rider, not to mention the amazing trips: The Collegiate Peaks area is filled with peaceful meadows, jagged peaks and stunning beauty as far as the eye can see.
Where I really grew, though, was when I became a counselor. Under the guidance of Lachlan (A/U Ranches horsemanship director) and Linda Clarke (horsewoman and A/U Ranches enrollment coordinator), I learned far more in one summer than I'd ever learned in all the previous years I had been riding.
I also learned so much from the wonderful horses I got to ride over the five years I was on staff. They each taught me patience, love, resilience, playfulness and how, if we worked together, we could become one efficient team performing a variety of tasks with ease.
Of all the horses I've ridden, Rita is the one that stands out the most. She was three or four years old when I first rode her, and we definitely had some challenging days, but after several summers of riding her in the staff rodeo, we formed a lasting bond. She's a fierce competitor and always knows when it's go time! To this day, whenever I'm at the A/U Ranches, I walk out into the field to find Rita. When I call her name, she perks up and comes over to say hi and nuzzle.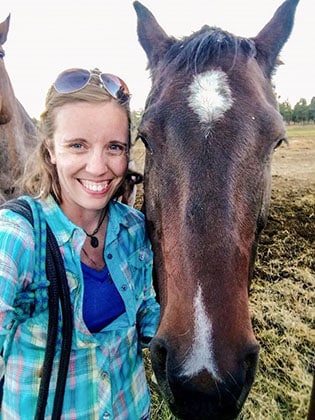 The horses in the corral hold a special place in my heart, and the A/U Ranches will always be my home away from home. I'm very grateful there are adult programs now, so I can go back and make new memories in a place I love so much.
Come back to your home away from home at the A/U Ranches Wrangler Reunion, held during Adult Mini Camp (August 20-26). Learn more and register