Vehicles for Charity
By donating a vehicle, Adventure Unlimited is able to turn it into cash to support our mission, and you receive a tax deduction.
Donate your Vehicle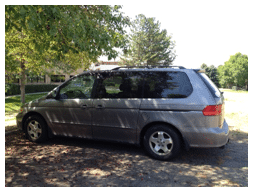 Do you have a vehicle you're not using, or isn't operating any longer? All types of vehicles can be donated, including cars, trucks, RVs, boats, trailers, scooters, etc., anywhere in the country, at no cost to you or to Adventure Unlimited.
It was so easy! We donated our family van full of memories to a wonderful youth organization. They came to my office to pick up my vehicle. We were happy to make this donation and would recommend this to anyone looking to find a new home for their well-loved vehicle. – Capp Family
How it works
Visit Vehicles for Charity or call 866.628.CARS (2277). You will need the title to the vehicle and current mileage in hand when you contact them.
Let them know you want the proceeds to support Adventure Unlimited.
A towing company will call you directly to schedule a pickup.
Give the towing company driver the keys and your appropriately signed title. The driver will give you a receipt.
Thank you for your support!
---
Adventure Unlimited, which includes DiscoveryBound and the A/U Ranches, is a 501(c)(3) charitable organization.
Youth Camp at the A/U Ranches
Our experiences change lives. At the A/U Ranches you'll find a Christian Science atmosphere with staff dedicated to helping you see the role God plays in your life. Each program and activity is designed to help you break through limitations, reach your goals, and see God in action.
Contact Us
If you have questions or need more info, please contact the Adventure Unlimited Development department.
toll free: 888.416.7348 x107
local: 303.779.3000 x107
fax: 303.773.0291
Email