Adopt A Horse
Support the Horsemanship program at the A/U Ranches with an annual or monthly gift.
THESE HORSES NEED YOU
You have an opportunity to adopt one of the finest horses in all of Colorado for a year! The horse you choose to adopt will benefit greatly from your sponsorship – it will be fed, cared for and loved that extra mile with your support. Your annual gift of $1,800 or monthly gift of $150 provides hay, grain, shoeing, care and training for one year.
When you adopt, you'll receive a photo and description of your horse. To start your adoption, email us.
Horses Available for Adoption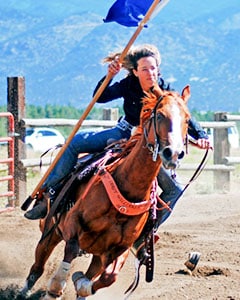 MILLIE
Meet Millie! She's a beautiful, athletic, chestnut Quarter Horse born right here at the A/U Ranches in 2008. Lachlan started her as a two-year-old. Now the campers are enjoying her. She excels in polocrosse, gymkhana and mounted shooting. Millie may be small, but she's a powerhouse. She is one of our most dependable and talented performance horses on the ranch. Both campers and staff love her.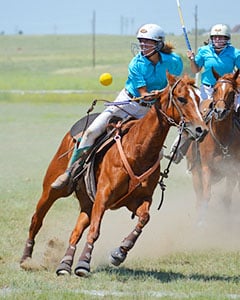 SKEETER
This is our awesome Skeeter, another amazingly talented horse born here at the A/U Ranches. Lachlan trained her from the start, and now she's a speed-demon extraordinaire. She likes to "get 'er done." Most likely the fastest horse in Chaffee County, Skeeter won the staff gymkhana in 2015. She's sassy, spunky and an advanced rider's favorite.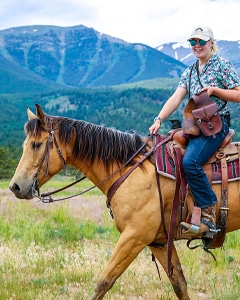 FROST –

[ADOPTED!]
Frost is a six-year-old gelding that was purchased this spring. He is a beautiful buckskin with a sweet nature, and lots of leg and heart. He was purchased from a young rancher who used him to move cattle, and it didn't take him long to learn what we do at the A/U Ranches, placing fifth in the overall gymkhana (a series of four events) – not bad since he just learned the poles, barrels and keyhole this summer. He loves a job and excels in working cattle.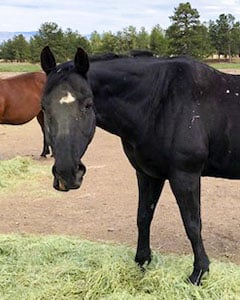 SMOKEY
Smokey is our 2013 staff gymkhana winner. She came to the A/U Ranches as a three-year-old and has had many adventures. She had a wonderful healing after being lost on Buffalo Peaks for two weeks, found healthy and safe. She continues to bless staff and campers alike.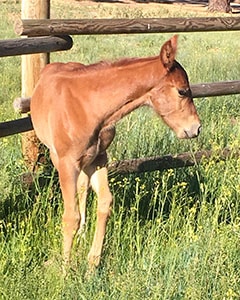 WYLIE
Wylie was born May 18, 2018. We purchased the mother, knowing she was in foal. Because she was so close to her due date, we left her with the previous owners to foal because we did not want to have the stress of a new home for her. Mom and Wylie came to the A/U Ranches summer 2018 for all the staff and campers to enjoy.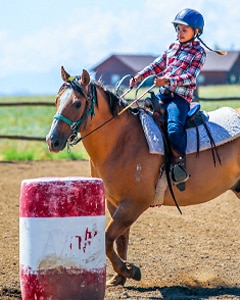 LEVI –

[ADOPTED!]
Levi is a 16-year-old buckskin gelding that was purchased this spring. He is the perfect horse for the A/U Ranches, taking young and inexperienced riders to new levels with his gentle nature and "I will take care of you" personality. In just one summer, he has become a favorite of the younger campers as well as of our family camp guests. He is a gem, and there are very few horses who have his gift of taking care of our campers and only doing what is asked of him.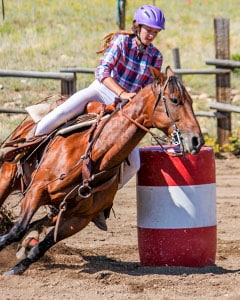 CASEY
Casey is a favorite for staff and camper alike. She can take care of newer riders and also perform at a high level for more advanced riders. She's won the staff gymkhana twice and is a pro at polocrosse. Casey is truly an all-around, talented, solid citizen – she's worth her weight in gold.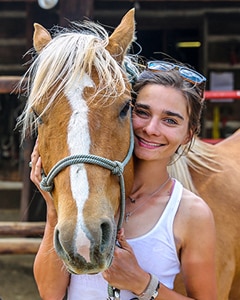 SLICK –

[ADOPTED!]
Slick is a six-year old, beautiful golden palomino that catches everyone's eye. He was purchased this spring and is gentle, with a "show me what to do next" attitude. He tries hard in everything that he's learning at the A/U Ranches, and he has a big heart. He is light to the rein and leg, but has a few more finishing touches to become a camper horse. As Slick matures, he will definitely be a ranch favorite, not only in his strapping good looks but also in his willingness to learn and his good nature.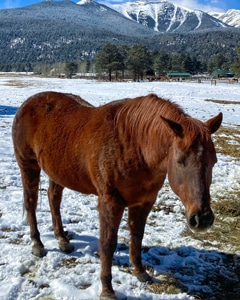 DELTA
Delta is a stout, strong and very athletic mare that requires an advanced rider. She is versatile in all that she does, including serving as a pack horse for three-day trips. It takes a special horse that can pack 120 lbs in the wilderness, and also be ridden in so many ways. She is great on the trail, working cows, polocrosse and gymkhana. Her nature is sweet, but as soon as you need to get something done while riding her she is a "let's get it done" type of horse.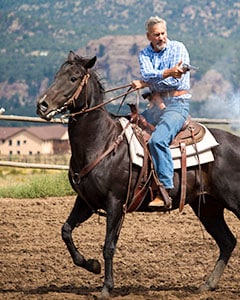 JOEY
Here's Joey. She is a large, gentle, dark bay mare – perfect for adults who need more "horse." She's a veteran pack trip horse and loves gymkhana. Joey is a truly solid member of our herd.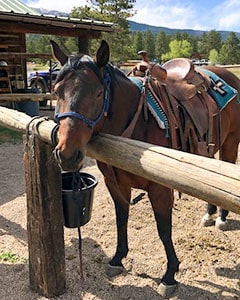 SLOAN
Sloan is one of our younger horses. Our staff have been training her to join the upper elite of the polocrosse and gymkhana group. She's on her way, having made great strides over the last couple of years. She's a blast to ride – forward, spunky and full of herself! We love her.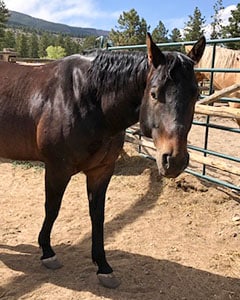 SIX –

[ADOPTED!]
Six is another of the younger horses. He's a blue roan, so sometimes he's dark bay and other times he's speckled white! He's a stocky, gentle, easy ride. Lachlan has spent hours and hours in the saddle making him what he is today. He's done parades, opened the gymkhana with the "posting of the flags" and is getting better and better every day at polocrosse and gymkhana events.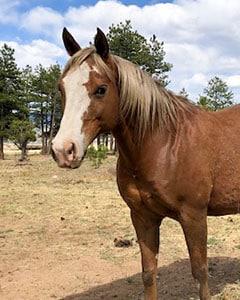 TORINO –

[ADOPTED!]
Meet Torino! He was "cutting" bred, which means he has good moves on him. He can turn it on when he needs to. Torino is a go-to horse because he's dependable, fun and talented. He's great for all levels of rider and is also one of the prettiest horses we have!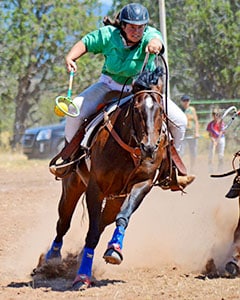 RITA –

[ADOPTED!]
Rita is a big Quarter Horse mare that came to us as a three-year-old. With a lot of training, she's come a long way and is now a camper and staff favorite. Rita is feisty, athletic and loves a good challenge.

To start your adoption, email us.
Adventure Unlimited, which includes DiscoveryBound and the A/U Ranches, is a 501(c)(3) charitable organization.
Youth Camp at the A/U Ranches
Our experiences change lives. At the A/U Ranches you'll find a Christian Science atmosphere with staff dedicated to helping you see the role God plays in your life. Each program and activity is designed to help you break through limitations, reach your goals, and see God in action.