Unified Through Service and Prayer
The National Leadership Council builds a culture of servant leadership that stays with students long after graduation.

One summer morning, Shane Witters Hicks found himself running a new route that took him through mountain neighborhoods to a scenic, natural overlook of his hometown of Golden, Colorado. While taking in the majesty of the moment, Shane was hit with an "indescribably strong and passionate feeling" that gave him "a powerful sense of perspective," he says. A flood of memories from his four years in DiscoveryBound's National Leadership Council (Class of 2013) and his NLC service trip came rushing to thought. His reflective moment concluded with two clear "theories of Being," as he calls them. The following is from Shane's journal entry that day:
We cannot exist as mortals. That would ultimately fail. In order to succeed (attain sustainable happiness), immortality must be made manifest in daily existence.
We must love one another unconditionally. Love is the only force. It motivates towards true progress (and progress is the law!).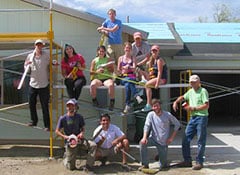 At that moment, he noted, he was feeling inspired in a way even he didn't quite understand. He felt "empowered and duty-bound." As Shane headed home, he was armed with the heightened perspective that "giving unselfishly is the best way to get real fulfillment out of life." At home, Shane jumped onto his computer, hoping to expand this inspiration. He started reading blogs, including one called "loving life," which eventually led him to a volunteer organization website. Within an hour he found himself serving food to homeless individuals at a local soup kitchen.
NLC Alumni Initiative
This kind of experience isn't unusual for an NLC graduate to have. Emily Mattson was a student in the 2010 NLC class and an organizer of the first NLC alumni trip this past May. She says NLC made service such a natural part of her life. "Serving others is glorifying God," she points out. "It becomes a part of your experience so much that you don't even realize it. My happiest times are when I'm serving because it's bigger than me."
Attending Principia College with many other NLC alumni, it wasn't until she graduated that Emily started to miss the deep discussions and connections she had while in the NLC program. Shane felt much the same way. "You build such an amazing and close-knit bond with people [during NLC], but what's the point if those relationships can't continue to be part of all the things that make NLC great?" he says.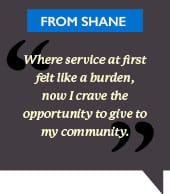 Wishing to make the service element from her NLC experience a bigger part of her life, Emily worked with NLC Director Jennifer Dale on an alumni initiative that would not only help keep alumni connected to the NLC program, but also meet the growing interest for a service element among fellow alumni. "Service and metaphysics bring us together, regardless of age," Emily says.
"For a long time we've felt that the alumni piece of NLC was a really important one," Jennifer says, who has followed up with the 37 NLC alumni at Principia College by visiting and working with the school. "But the initiative had to come from them, not us, to be successful."
Along with Shane's brother, Kynan Witters Hicks (also from the 2010 class), Emily helped to organize and plan the first NLC alumni trip this past summer. The group supported Habitat for Humanity in Chaffee County, Colorado, over three days, building the exterior framework of a house for a family in need.
In the evenings, they would cook together and talk about their day. They invited speakers to join their discussions, including Chris Sheasley of TMC Youth, who explored with them their own purpose and the purpose of church – why it exists, why attend, and how its presence can have an influence in the community. Jennifer Dale also joined the group and provided ideas about how to structure their alumni organization going forward.
Invaluable perspective
To be able to work with a group of individuals who wanted to serve was very special for Shane and Emily. "Perspective is important, and NLC gave me perspective," Shane says of his four years in the program. "It pushed me to go beyond the everyday bubble. It exposed me to things that help foster that sense of perspective. It helped me to see what drives me. After being in the NLC program, I'm really eager to reach out and meet new people. And where service at first felt like a burden, now I crave the opportunity to give to my community."
Shane and Kynan's mother, Diane Witters, a National Alumni Board member with Adventure Unlimited, sees another purpose for the NLC alumni group. "It allows kids to see the inspired spiritual poise of alumni in action," she says. "Inclusive alumni groups should be just as much about anticipating what's ahead as celebrating what's behind. The new NLC alumni group has really hit the mark by offering fun service possibilities for young Christian Scientists as a way to reconnect and socialize."
A big fan of the NLC program, Diane adds, "Life can be so rich when we look outside ourselves. We find ways to turn that into service."

---

Meet Shane
Programs: DiscoveryBound National Leadership Council and A/U Ranches
Interests: Cross-country & trail running, backpacking, mountain biking, reading, playing piano, astrophysics & climate physics

Meet Emily
Programs: DiscoveryBound National Leadership Council and A/U Ranches
Interests: Playing with foster dogs, paddle boarding, traveling, line dancing with residents at Peace Haven, where she works
---
About DiscoveryBound's National Leadership Council (NLC)
The National Leadership Council is a four-year program for Christian Science high school students, focusing on spiritual growth, leadership skills and cultivating a service approach to life.
---
Youth Camp at the A/U Ranches
Our experiences change lives. At the A/U Ranches you'll find a Christian Science atmosphere with staff dedicated to helping you see the role God plays in your life. Each program and activity is designed to help you break through limitations, reach your goals, and see God in action.