Replacing Labels with Leadership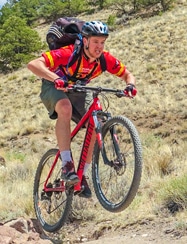 It was a rocky start to Quinn's overnight trip during staff development at the A/U Ranches. As a first-time program head for mountain biking, he was eager to be leading younger and less-experienced staff members, but things were not going well. 
After facing a few logistical problems, the group left around 11:45 a.m., which he describes as "not ideal for an overnight trip." On top of feeling responsible for a delayed departure, he was struggling with a headache and overall not feeling good about himself.
Once they hit the trails, Quinn took a riskier line than the rest of the group and ended up falling, leaving him feeling dumb and also concerned about the functionality of his bike, which was now damaged. His self esteem continued to plummet. He kept saying to himself, "C'mon Quinn, this is unacceptable. You are not doing a good job at all."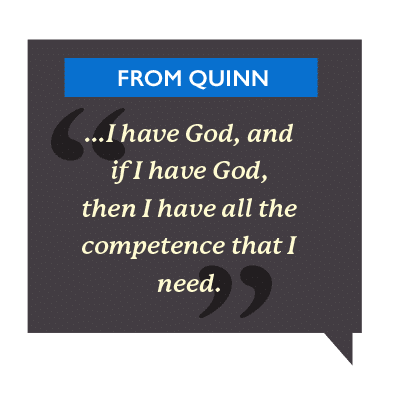 After several more events that left  him feeling badly, he decided to take a moment of reflection when the group arrived at their campsite.
"One of the big things I was realizing was that I was putting all these labels on myself," Quinn recalls. "Historically, I have been really critical of myself, so I was just getting down on myself really hard. I needed to snap out of it. 
"At the end of the day, I am a child of God, over everything," he says, recalling his prayerful approach. "Being a child of God, I am capable of putting together a good overnight trip, capable of giving the training these boys need, capable of riding without having an injury. I had been looking at myself as 'Quinn, the loser and failure' and I needed to look at myself as 'Quinn, the child of God' and recognize that I could start that right now."
The next morning he felt well rested, at peace, and ready to start the day with a fresh mindset. After riding some difficult trails, he says it was a "really harmonious experience and everything was going well. At the end of the day, it's not me out here leading by myself, but I have God, and if I have God, then I have all the competence that I need."

---
About The A/U Ranches
The A/U Ranches, located in Buena Vista, Colorado, are a cornerstone of Adventure Unlimited's programming. The supportive and inspiring atmosphere cultivates confidence and develops moral courage for Christian Science youth, adults and families. Activities are offered year-round, including a secular community outreach program, 100 Elk, which serves diverse schools and groups.
---
Youth Camp at the A/U Ranches
Our experiences change lives. At the A/U Ranches you'll find a Christian Science atmosphere with staff dedicated to helping you see the role God plays in your life. Each program and activity is designed to help you break through limitations, reach your goals, and see God in action.