Learning to Express, Not Impress
Fear and a sense of personal accomplishment give way to joy and freedom
over a ski weekend.

In the beginning, it was all about skiing for Samantha. She had never participated in a DiscoveryBound Outreach activity and was apprehensive about the 2015 New Hampshire Winter Weekend.
"I didn't know anyone else going other than my cousin and wasn't sure how the weekend was going to play out," Samantha says. "I was signing up for the skiing – not so much for the spiritual growth or even just getting to know new people. I had no idea at the time how much fun it was going to be and how many new and wonderful people I would meet."
This realization came quickly when Samantha hopped into the transport van with her cousin, joining several other teens, and they began the 2-hour drive to the cabins. "I could tell that the atmosphere of love was very much present and that the people around me were filled with excitement for the weekend," Samantha says. "By the time we pulled up to the cabin, I was so excited to meet all the new faces and experience DB for my first time."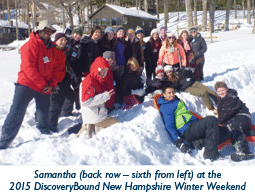 The foundation of love and support established during the drive gave Samantha the tools she needed to address a nagging concern: a feeling that she needed to impress others with her competency as a skier.
"As we started down the mountain, one thought came to me that I have worked with often: 'Express, don't impress,'" Samantha recalls. "I worked with this a lot at Camp [Newfound] over the summer and before soccer games, track meets or tryouts for any of these. That competitive sense of needing to constantly prove something to someone else or be the best in a very egotistical way was not something that needed to be a part of my thought, myself or my experience."
Although she rates her skiing level as intermediate, Samantha was also dealing with fear, which she says she had felt every time she looked down a slope for the first time. "I was feeling this a lot on the chair lift up to the top Saturday morning," she says. "I was worried that I wouldn't be able to keep up with the group or I would fall and hurt myself and be unable to participate in the weekend."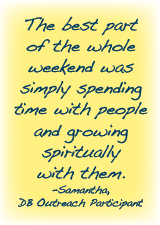 But Samantha realized that "worry is not trusting in God." She also held to the idea that no one can be hurt while having fun. "If you are expressing God's qualities and glorifying and gratifying God, it does not make sense for you to be hurt while in God's kingdom," she says. "If all that God made was good, including you, then you cannot be touched by fear, worry, doubt, lack or any other erroneous belief while expressing God's good qualities."
Samantha stayed with these thoughts as she started down the mountain. "By the bottom, I felt I was gliding over the crisp snow in complete protection and guidance from God," she recalls. "There really is no spot where God is not."
At the end of the weekend, Samantha could hardly wait for the next DB Outreach event. "The skiing was amazing – I had such a great time!" she says. "But the best part of the whole weekend was simply spending time with people and growing spiritually with them. It's not often when I am in a setting with lots of other Christian Scientists, but when I am, the atmosphere is so filled with love for God and love for others that you can't help but be swept up in the current of love."

---

Meet Samantha
Program: DiscoveryBound Outreach
School year: Freshman
Interests: Running track; playing soccer, violin and piano; spending time with friends and family (especially cousins); going to Camp Newfound each summer
---
About DiscoveryBound Outreach
DiscoveryBound Outreach is a community outreach program that provides local family activities, regional retreats and national teen conferences for Christian Scientists and their friends.
---
Youth Camp at the A/U Ranches
Our experiences change lives. At the A/U Ranches you'll find a Christian Science atmosphere with staff dedicated to helping you see the role God plays in your life. Each program and activity is designed to help you break through limitations, reach your goals, and see God in action.