Healing in the Heights
Support from her classmates and class leaders help an NLC teen overcome panic during a steep climb.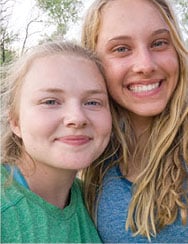 Before she joined the 2020T class in DiscoveryBound's National Leadership Council (NLC), Lauren didn't know what servant leadership meant. She hadn't been away from the comforts of home, and her daily activities didn't include reading the Christian Science Bible Lesson. Life was fine – but Lauren was looking for something to help her get closer to God.
Now, halfway through the four-year program for high school students, Lauren's perspective and practices have shifted. "Ever since I started NLC, I have become more interested in diving deeper into the Lesson and have loved being a part of Christian Science discussions," she says. "I find myself using CS more and more in my day-to-day life."
Where did this come from? Lauren points to the two weeks she spent at the A/U Ranches as a rising ninth-grader during her class's orientation summer.
"I loved going with my class to the Lost Wonder Hut in our first summer together," she recalls. "I had never been in a place like that, with no running water and in the middle of nowhere. So my class and I really went deeper into the Bible Lesson and Mary Baker Eddy's writings. I began to forget about where I was and became more aware of who I was with and what I was experiencing."
During Lauren's second summer with her NLC class, she found another opportunity to dig deeper. Along with her two class leaders, six professional guides and a Christian Science practitioner, Lauren and her classmates took a two-week trip rafting and kayaking on the Green River in Utah – their NLC adventure trip.
Toward the end of two weeks that had been full of excitement, spiritual growth and bonding, Lauren says she became nervous during a steep hike – "it was no longer a trail but more like rock climbing and went pretty much straight up" – and hung behind with two other classmates. But she was encouraged to move ahead after hearing from Bill Dale (one of her class leaders) and a river guide that the top would yield a "once-in-a-lifetime view."
She was immediately challenged. "As I was looking down to see how far I'd gotten, I felt this painful tightening in my chest and started to uncontrollably cry," she says. "I couldn't catch my breath, and I felt like I couldn't move my feet."
They found a safe place to sit, which helped, but only if she didn't look off the edge. "While I was sitting there, I was reminded of FEAR as an acronym: false evidence appearing real," Lauren says. "But the view at the top and the love that I would feel when everyone at the top saw me – those things were real.
"I decided to keep climbing," she continues. "Just around the corner I saw the Green River rushing down below me and the rest of my class laughing and jumping. When they saw me, they started cheering, and all of them came up to me and embraced me into the biggest hug. I was no longer scared and was excited to be up there with my class."
As Lauren anticipates this summer's NLC service trip with her class, she has a new perspective on what it means to serve. "Now I see servant leadership in myself and in others," she observes. "I know that I am leading for a purpose and not for praise or recognition."
As a class leader, Bill has witnessed Lauren's growth and willingness to stretch herself. "I've really loved Lauren's unquestioned acceptance and embrace of whatever activity we do," he says. "She clearly likes to be pushed higher, never complaining, but finding the joy in every activity. Her easy manner within the group makes her a trustworthy teammate, as she puts ego aside without compromising integrity or values."
"I loved the dynamic of my life before NLC," Lauren says, "but changing it was worth every experience I've had while in this program."
---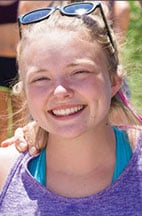 Meet Lauren
Programs: DiscoveryBound National Leadership Council – Class of 2020T
School year: Sophomore
Interests: Tennis, basketball, Harry Potter books/movies, playing with her dog, Coco
---
About DiscoveryBound's National Leadership Council (NLC)
The National Leadership Council is a four-year program for Christian Science high school students, focusing on spiritual growth, leadership skills and cultivating a service approach to life.
---
Youth Camp at the A/U Ranches
Our experiences change lives. At the A/U Ranches you'll find a Christian Science atmosphere with staff dedicated to helping you see the role God plays in your life. Each program and activity is designed to help you break through limitations, reach your goals, and see God in action.