Gratitude for Adventure Trip Support
In this letter, Heather shares two healings, supported by her NLC classmates and donors who make the DB National Leadership Council possible.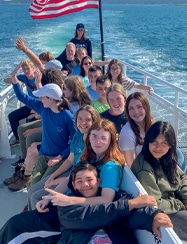 Dear Donor,
Thank you for giving me this opportunity to attend this adventure trip. It means so much to me, because I've gotten to do so many things, but I have also been able to develop both personally and spiritually.
During this trip we did so many fun things, but my personal favorite was the two-day rafting trip. Not only because we went rafting, but because we had a Wednesday church service, where some of us shared inspiration and healings.
This trip was amazing but it was also a great opportunity where I got to realize that I had experienced two healings, thanks to the program.
The first: I've always struggled to make friends, let alone keep them, so thanks to the program I've gotten to realize that I have 17 other best friends that really care for me. And it's made me feel a lot better.
Another healing I had was that I've always struggled with public speaking. Like I couldn't even present in front of my classmates. But thanks to the program, I've learned how to be more of a servant leader and a Christian Scientist. So thank you for giving me this opportunity.
Heather
Heather with some of her 2025U NLC class
---
About DiscoveryBound National Leadership Council (NLC)
The National Leadership Council is a four-year program for Christian Science high school students, focusing on spiritual growth, leadership skills and cultivating a service approach to life.
---
Youth Camp at the A/U Ranches
Our experiences change lives. At the A/U Ranches you'll find a Christian Science atmosphere with staff dedicated to helping you see the role God plays in your life. Each program and activity is designed to help you break through limitations, reach your goals, and see God in action.