Calm Replaces Fear While Caving
A CIT reaches out to her program head for support in overcoming a fear of small spaces – and is healed.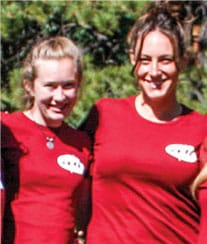 After nine years participating in various mountaineering majors at the A/U Ranches, Katie had never gone caving at Youth Camp. "I'd been in a few caves before, and I just hadn't enjoyed it – it was really scary for me," she says.
But Katie also knew that camp was a place to trust God. "I always found that the challenging activities were the ones where I grew the most and leaned the most on Christian Science," she adds. "I was able to do things that were hard for me and do them well."
So last summer, when Katie was a first-time counselor-in-training (CIT) in the Mountain Mosaic major, she sought out the program head, Katie Walter, to help her prayerfully approach their trip to Porcupine Caves.
"It was a challenge for her," says Walter. "She was willing to take it on, but one step at a time. So we were praying about it the night before and connected in the morning."
When the group entered the cave through the first ladder, Katie instantly felt aggressive fear. "She was crying and shaking and almost hyperventilating," Walter relates. So she and Katie sat down together to be still and pray.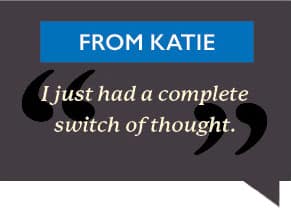 "The thing that really hit me was the peace of the cave," Katie recalls. "My favorite hymn is 'O Gentle Presence' [words by Mary Baker Eddy], and just thinking about when I'm in a cave – 'oh, gentle presence!' – it's there – 'peace and joy and power.'"
"We talked about if we just close our eyes, God is no more or less present when we're in one set of circumstances versus another," Walter says. "No matter where we are, God is there. We could take that day in Porcupine Caves to practice that, and use it as an opportunity to turn to God every time we felt confronted with our fears, and know God is right here. That's the deep-down learning we never forget. Imagine the gift that would be for the rest of our lives!"
"I just had a complete switch of thought, and I was able to go through the day," Katie says. "Even though it was scary for me, it wasn't a paralyzing fear anymore, and I was able to keep moving."
This included going through a tight, twisting opening called the Toilet Bowl. Katie didn't want to do it, but she remembered that God was with her there in the cave. "Like in the hymn, 'Whither,' it doesn't matter if you're on the bottom of the ocean, or wherever, God is there," she says.
In fact, everyone in the group went through the small opening, which was the first time they'd all done it. They also did a trust crawl, during which headlamps were turned off and the group moved forward in darkness for several minutes, communicating through tactile and verbal means.
"She managed to do all of that and exit the cave with such grace," Walter says. "It was beyond inspiring. I loved hearing her share gratitude that night during our staff meeting – that it was a very black and white difference for her. She went from being extremely fearful to complete calm and peace."
"I ended up having a really fun day," Katie says. "I was really grateful for that."
Katie says she loved her summer as a CIT and the connections she made with her fellow CITs. "When going from a camper to a counselor, you're going from receiving the gift of camp to giving the gift of camp," she reflects. In addition to the loving community the program heads foster, she says, "We have a huge support system with all the other CITs, the CIT trainer and the lodge managers."
Plus, she adds, it's really about the kids. "I love being at camp all summer, and I love getting to share my love of the mountains with campers," she says. "Climbing fourteeners with campers who have never peaked one before is so cool. I get to show them how awesome it can be and how much fun they can have."
---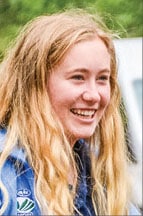 Meet Katie
Program: A/U Ranches Youth Camp
School year: Senior
Interests: Playing violin, singing, hiking, being outside
---
About the A/U Ranches
The A/U Ranches, located in Buena Vista, Colorado, are a cornerstone of Adventure Unlimited's programming. The supportive and inspiring atmosphere cultivates confidence and develops moral courage for Christian Science youth, adults and families. Activities are offered year-round, including a secular community outreach program, 100 Elk, which serves diverse schools and groups.
---
Youth Camp at the A/U Ranches
Our experiences change lives. At the A/U Ranches you'll find a Christian Science atmosphere with staff dedicated to helping you see the role God plays in your life. Each program and activity is designed to help you break through limitations, reach your goals, and see God in action.