Programs
Over the decades, Adventure Unlimited programs have helped produce a large and dedicated band of men and women who have served the cause of Christian Science in every conceivable way: as volunteers, Sunday School teachers, board members, readers at local churches and employees of a multitude of Christian Science organizations, including The Mother Church.
Our Legacy
Total Funds Needed: $3,200,000
The Campaign will ensure opportunities are available for young Christian Scientists to grow in their understanding and practice of Christian Science, to build lasting relationships with their peers, to serve others – and to have fun!
I honestly have no way to put into words the profound effect Adventure Unlimited's programs have had on my life. Through them, I have formed meaningful friendships with other Christian Science teens around the U.S. and had some of the most uplifting and eye-opening experiences of my life. At each DiscoveryBound event I have attended, I have been enveloped in an abounding sense of an all-inclusive, omnipotent and omnipresent Love.

– A/U Ranches Camper and DiscoveryBound Participant
New Initiatives Fund: $1,000,000
This new fund will make resources available immediately for innovative new programs for Christian Scientists of all ages.
Program Expansion: $2,200,000
This fund will be split between DiscoveryBound and the A/U Ranches to expand, enhance and develop current and new programming and program resources.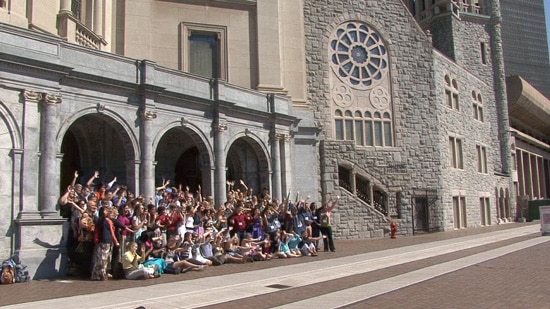 DiscoveryBound Outreach and the National Leadership Council (NLC)

Double the capacity of the NLC program to accommodate increasing demand from the field and to create alumni programming COMPLETE
Offer a new one-year service and character development program (Compass) COMPLETE
Broaden the young adult program to encourage continued participation from those graduating from youth programs and to satisfy a growing desire for an inclusive Christian Science community and activities with peers among 20- to 30-year-olds
Expand DiscoveryBound Chapters and programming

A/U Ranches

Create new specialized programs, workshops and seminars for adults
Add ranch hands to support facility upgrades and program expansion
What Can You Do
Ready to help? For information on how to make or direct a gift, you can give online or call 888.416.7348 x109 or Email.
---
Adventure Unlimited Foundation, serving DiscoveryBound and the A/U Ranches, is the fundraising arm of Adventure Unlimited, a 501(c)(3) charitable organization.
Youth Camp at the A/U Ranches
Our experiences change lives. At the A/U Ranches you'll find a Christian Science atmosphere with staff dedicated to helping you see the role God plays in your life. Each program and activity is designed to help you break through limitations, reach your goals, and see God in action.