Campaign Overview
The Bridges to the Future Campaign will help ensure that Adventure Unlimited's programs continue to serve the needs of the next generation of Christian Scientists.
ADVENTURE UNLIMITED'S LEGACY
Today's Adventure Unlimited (A/U) and DiscoveryBound (DB) programs are the result of almost 60 years of engaging young people and the young at heart in experiencing healing in action at the Colorado Ranches, and in dozens of DiscoveryBound Chapters and activities throughout the country and around the world.
The A/U Ranches, founded by John "Cap" and Marianne Andrews in 1955, have served generations of Christian Science (CS) campers in adventure-based programs that are focused on "Opening Windows to God." DiscoveryBound provides the only nationally based, year-round programs for CS youth that offer local, regional and national opportunities to come together for inspiration, leadership, service, fun and spiritual growth.
Over decades, these programs have helped produce a large and dedicated band of men and women who have served the cause of Christian Science in every conceivable way: as volunteers, Sunday School teachers, board members, readers of local churches and employees of a multitude of Christian Science organizations, including The Mother Church. The Bridges to the Future Campaign will help to ensure these programs continue to serve the needs of the next generation of Christian Science youth, their friends and families.
REALIZING A VISION
The vision of the Adventure Unlimited organization is to be recognized as a vital community where every individual experiences God, and where spiritual seekers develop a commitment to healing and serving mankind based on the application of Christian Science.
Here is how the Campaign will ensure we realize this vision:
Expand and enhance programs through the A/U Ranches, DiscoveryBound Outreach and DiscoveryBound National Leadership Council (NLC), with a goal of reaching ever more Christian Scientists.
Build relationships and share expertise and resources with other Christian Science organizations, partnering wherever possible to serve and bless CS youth.
Ensure that current programs will be fully funded well into the future.
Accelerate steps to provide stable finances by building endowments and aligning financial plans with program goals.
Create a Working Capital Fund and increase our Endowment Funds.
Establish a New Initiatives Fund that will launch innovative ideas for today's Christian Scientists, especially its young people, young adults and young families.
Bring new focus to the 18-35 age group by broadening programs and offering activities and opportunities that will bring young adults together.
CAMPAIGN GOAL SUMMARY
The $16.5 million Bridges to the Future Campaign will put Adventure Unlimited in a position to respond to and meet the ongoing needs of young Christian Scientists around the world. To do this, the funding will serve to build bridges to the future through several focused areas.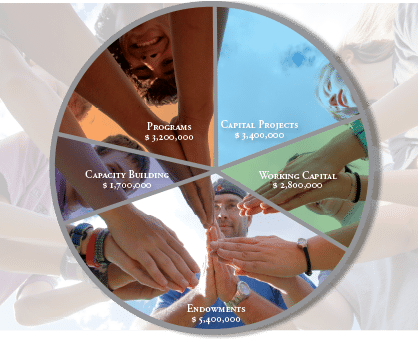 What Can You Do
Ready to help? For information on how to make or direct a gift, you can give online or call 888.416.7348 x109 or Email.
---
Adventure Unlimited Foundation, serving DiscoveryBound and the A/U Ranches, is the fundraising arm of Adventure Unlimited, a 501(c)(3) charitable organization.
Youth Camp at the A/U Ranches
Our experiences change lives. At the A/U Ranches you'll find a Christian Science atmosphere with staff dedicated to helping you see the role God plays in your life. Each program and activity is designed to help you break through limitations, reach your goals, and see God in action.