By Gina Lindquist-Bailey
This year has been like no other for Adventure Unlimited, but one thing is clear: While the format looks different, we are still finding new opportunities to open windows to God. We are grateful for the ways in which prayer has enriched our experiences both in serving new communities, like nearby Leadville, and serving our traditional constituency in new ways.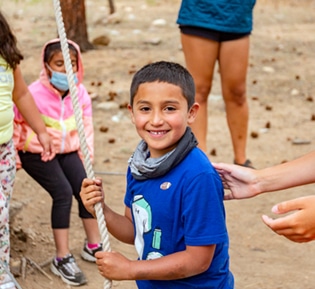 We took into account all safety regulations and social distancing guidelines when creating our new A/U Ranches Youth Adventure Day Camp and Family & Friends Getaway programs, and have also adapted the structure of Adult Mini Camp to comply – but that hasn't diminished their integrity. In addition, the DiscoveryBound National Leadership Council (NLC) trips that were able to run in this manner still provided the inspiring fun and adventure the teens love.
A/U Ranches
With four weeks of Youth Adventure Day Camp already under our belts, we are set to provide the fun, activity and inspiration of camp for one (August 3-7), and if sufficient interest, two more weeks (August 10-14). The 9 a.m. – 4 p.m. format has a non-denominational Christian foundation consistent with Christian Science. Members of the greater Buena Vista, CO, community, as well as Christian Science families from out of town who are able to arrange their own accommodations and are willing to self-quarantine prior to arriving at camp, are welcome. All appropriate COVID-19 precautions, including wearing masks indoors (and also outdoors when unable to social distance), are taken in a loving environment free from fear.
Here's a snapshot of this summer's day camp:
For those campers unable to join us this summer, counselors started a pen pal program and have been providing some virtual programming to stay connected. We look forward to welcoming all our campers home next summer.
In addition, many have joined us for Family & Friends Getaway. To-date, more than 50 families, booked through July and August, have taken advantage of creating their own vacation. We've extended this program by a week and a half and will be running through August 14 as a shift from our traditional August Family Camp. A few spots are available for alumni interested in joining us!
We will still be running Adult Mini Camp, with all the same COVID-19 precautions and modifications. (As previously announced, the Mountaineering Reunion has been postponed until 2021.) Know that we continue to monitor the current situation and hope to run elements of our fall and winter programming. Stay tuned for details on those as the fall unfolds.
Another point for gratitude is our ability to retain our seasonal staff throughout the summer programming – many who are adults in their 20s and feeling the strength of community at the A/U Ranches. Here's one of those staff members, Japhet French, expressing his gratitude to the donors who made it possible:
DiscoveryBound
As mentioned above, DB has been able to host several modified NLC trips this summer, where those trips could accomplish safe and appropriate experiences. Where classes have not been able to be together in person, they have stayed connected through video calls and remote assignments.
After much discussion, evaluation and humble prayer, we decided not to proceed with the in-person DB Outreach National Annual event at CedarS Camps. Instead, we are planning a fun and inspiring two-part event this fall, September 18 and 19. It will kick off with an online talk about identity and stability in a time of uncertainty, followed by four regional get-togethers, with teen and adult tracks, the following day. This event will include inspirational discussions and activities unique to each location – all while following all local health regulations and guidelines for public events.
In addition, the DiscoveryBound team is working on two more talks at the end of September: a teen-only Bible talk and an adult Christian Science history talk. This is all in addition to ongoing virtual events, such as monthly game nights for teens, 20s/30s and families.
Finally, we have postponed the DB 20s/30s Iceland Adventure Trips to fall 2021, due to current travel restrictions.
For current and ongoing updates on all our Adventure Unlimited programming, you can find them on the A/U Ranches and DiscoveryBound program status pages.
Thanks for all your prayerful support as the organization has made many pivots this spring and summer. We feel and deeply appreciate it.