By Kynan Witters Hicks, NLC 2010 Class
As a continuation of their culture of service, alumni in DiscoveryBound's National Leadership Council (NLC) organize and participate in an annual trip that allows them to reconnect with each other while doing what they love: serving others. Five alumni on this year's trip, held over Memorial Day weekend on Santa Catalina Island, California, volunteered with the Catalina Conservancy, which manages 88 percent of the island's land, including more than 62 miles of pristine beaches and coves.
Our alumni group chose Catalina Island as a volunteer project because we wanted to learn more about the significance and principles of ecological preservation – a topic often discussed on the news and in politics. The trip also provided a special opportunity to connect with each other as students of Christian Science.
The Catalina Conservancy heavily depends on volunteers to help preserve the natural landscape and educate others about the importance of conservation. More than a million people visit the lands annually, including 60,000+ school children. There are also more than 60 plant, animal and insect species that are found nowhere else in the world.
We were given an enthusiastic and warm welcome when we arrived in Avalon, the main port and town on Catalina Island, and whisked into a 3-hour naturalist training before beginning any volunteer work. We quickly learned that the Catalina Conservancy puts great importance on educating the public about the crucial role that environmental management has on maintaining healthy ecosystems for native plants and animals to thrive and for people to enjoy. The conservancy lands were preserved by the island's former owner (chewing gum tycoon William Wrigley) for everybody to experience, regardless of economic status.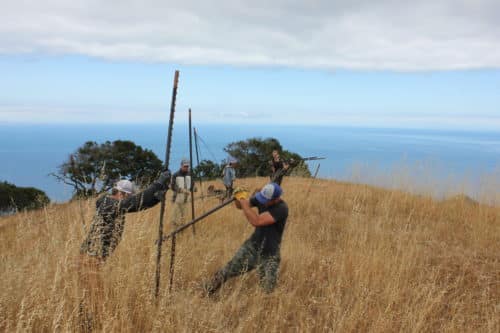 Our group had two main tasks: to pull fencing and clean beaches. On our first day, we waded through tall prairie grasses in order to get to remnants of fences that had been used to keep non-native wildlife (such as bison and deer) from destroying native vegetation. Our job was to yank the tall fence posts out of the ground and haul them up to our truck, a task that required coordinated teamwork – and lots of muscle.
We also spent a day touring the beaches, picking up trash along the way. Private cars are prohibited on much of the island, and some of the beaches are only accessible to the public by boat. We felt fortunate to visit beaches that not many people get to experience.
Our group relished the opportunity to work on an extended service project that was making such an impact on a community, but there was also a special feeling to spending a long weekend with a group of other young adult Christian Scientists. In particular, we valued the unstructured time in the evenings to talk (and occasionally goof off). While we were cooking dinner, hiking on trails near our campsite, or exploring the town of Avalon, we'd talk about things we were learning from our volunteer work, memories of NLC, and sometimes spirituality and Christian Science.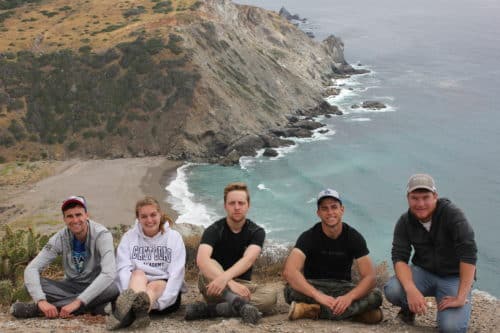 On the last night, as we sat by the ocean, a couple of members started asking questions about prayer and how healing happens. It was a natural and special opportunity to explore questions about Christian Science with peers – something young adults have been telling Adventure Unlimited they are looking for more of in the research we have been conducting.