By Kate Robertson, National Alumni Board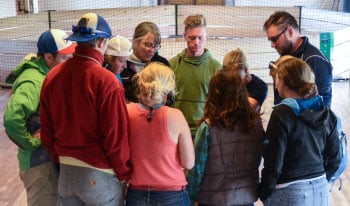 Rain clouds hang low over the valley. Mt. Princeton and Columbia Basin are draped in mist. It is late May, and there is a mixture of eager anticipation for the summer to begin, and a soft exhalation as the snow melts and spring green spills across the foothills. We are getting ready to receive – counselors, campers, families and adults.
You can almost feel the valley opening her arms. The doors of the tack house are flung wide as saddles are prepared for young riders. The raft barn will evict its winter residents, making way for freshly coiled ropes and dusted-off life jackets (yes, I know that they are called PFDs – personal flotation devices). The counting of camp stoves and sleeping bags will begin in outcamp, and cabins will get a thorough airing out.
But the real preparation for receiving our guests has been going on for months now – in our hearts. Earlier this year, the full-time staff chose a metaphysical theme for the entire organization: "Cast the net on the right side of the ship, and ye shall find" (John 21:6). This theme was shared with the entire summer staff as each was hired. In April, the camp directors and Ranch staff came together to choose two inspirational messages that would supplement that keynote theme for the summer: "Moral courage is requisite to meet the wrong and to proclaim the right" (Science & Health with Key to the Scriptures by Mary Baker Eddy, p. 327) and Hymn 58: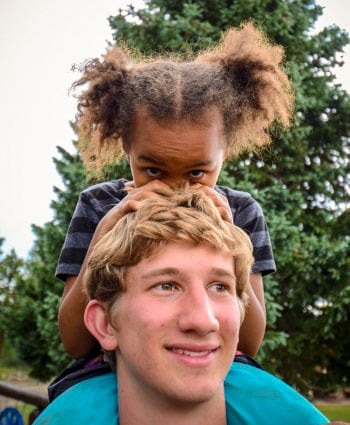 Father, we Thy loving children
Lift our hearts in joy today,
Knowing well that Thou wilt keep us
Ever in Thy blessed way.
Thou art Love and Thou art wisdom,
Thou art Life and Thou art All;
In Thy Spirit living, moving,
We shall neither faint nor fall.
Come we daily then, dear Father,
Open hearts and willing hands,
Eager ears, expectant, joyful,
Ready for Thy right commands.
We would hear no other voices,
We would heed no other call;
Thou alone art good and gracious,
Thou our Mind and Thou our All.
In Thy house securely dwelling,
Where Thy children live to bless,
Seeing only Thy creation,
We can share Thy happiness,
Share Thy joy and spend it freely.
Loyal hearts can feel no fear;
We Thy children know Thee, Father,
Love and Life forever near.
From that day on, we have been in full summer preparation mode. Everything that follows is being carried forward on the flow of these foundational spiritual truths – like leaves on a river. Every Ranch staff member, camp director, program head, counselor, ranch hand and CIT is fully on board. Deeper reflection on these themes is engaging hearts, and becomes a lens through which to examine motives and inspire actions.
On May 31, program heads will come home to the A/U Ranches to begin their preparation for receiving counselors and CITs. On June 6, we will begin Training Camp. For two weeks, we will deepen into these themes and their practical application. Days will be spent exploring hard skills (riding, rafting, climbing, biking) and soft skills (nurturing the best in others, encouraging growth in grace, gently guiding choices, praying with children, supporting healing, listening, studying together, sharing, rejoicing).
When I consider this extraordinary time of preparation – as summer staff trains their thoughts, motives, actions and expectations toward seeking and finding the best in themselves and others – I can't help but think of something Ranch Director Alison Peticolas shared with the Adventure Unlimited team earlier this year. It's Cap's simple message from the first page of Opening Windows to God:
It would be wonderful someday to have a camp where I could live and work with boys (it all started with boys), to help them appreciate God, and to be willing to turn to Him in prayer.
Alison goes on to share in her note, "That is why he started camp, and I'm grateful to know that we are operating consistently with that vision today. It's important for us to remember that is the most important part. Running programs is the how and what we do. Opening windows to God is our why."
It is our "why." Not only in serving campers and their families, but in our training.
Looking forward to a wonderful summer of appreciating God, and being willing to turn to Him in prayer.
From the staff, National Alumni Board, and trustees: We invite you to join with us in prayerfully supporting all of Adventure Unlimited's activities this year, including Youth Camp. Looking for some inspiration? Here are a couple of starting points:
Thank you for your needed love and support!