All Ages Programs
Adventure Unlimited offers a range of experiences for Christian Scientists in all stages of life. While youth programming is our core strength, adult and family programming are a great way to involve everyone in the Adventure Unlimited experience! Our fun, wholesome activities encourage quality time together, spiritual reflection and growth, as well as a great way to connect with other Christian Scientists.
Make memories together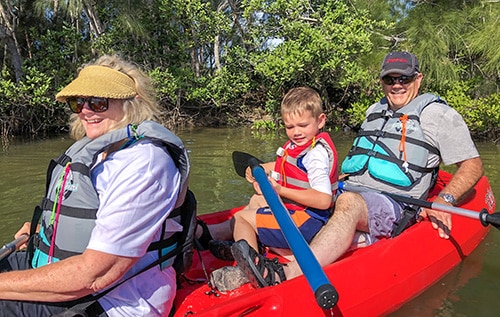 Adventure Unlimited's Family programs help you unplug and provide quality time with family and friends. We have something for everyone starting with infants and toddlers to those young at heart. Christian Scientists are welcome to invite family members and friends of all faiths. Our activities are inclusive and supportive.
Like our Youth and Adult programs, Family programs are offered at the A/U Ranches and through DiscoveryBound Outreach. They help you connect with other Christian Scientists, challenge you to try new experiences and focus on the practical application of Christian Science. Join us and experience Christian Science in action with your children, family members and friends.
Spending quality time together in a Christian Science atmosphere is such a blessing, even for those members of our family who are not Christian Scientists. Everyone felt included, loved, uplifted and filled with joy!
– A/U Ranches Family Ranching Participant
All Ages Program Listing
Service Weekend

Join the dozens of adults and families who come to the A/U Ranches over Memorial Day Weekend to help us get ready for our summer programs. Connect with Christian Scientists from all over in fellowship and camaraderie during a satisfying work filled, part play, and always fun weekend in the Rockies.
Family Camp
Adults and Families are welcome to join us for an opportunity to take part in any of the activities offered at the A/U Ranches. This program is unique because it allows you to choose whatever you want to do each day! A Kids Camp offers a range of activities for children 10 and under allowing parents the opportunity to go off and "play." Child care is also available for the younger ones.
Christmas Camp
Come enjoy a uniquely traditional Christmas adventure at the A/U Ranches. Participate in a range of time-honored endeavors (make gingerbread houses, help select the Christmas tree from the forest, caroling, hang by the fire, etc.) and winter activities (snowshoe through the Rockies, play broom hockey on a frozen lake, sledding, skiing, etc.) to make your holiday celebration special. However you decide to spend your time, it's sure to be a Christmas you won't forget!
DiscoveryBound Outreach
Discovery Bound Chapters answers the needs of the communities they serve. Local Chapters may offer a variety of events for parents, children, teens, adults or all these groups combined. Check with your local DB Chapter or DB Regional Manager for more information about events offered in your area.
Youth Camp at the A/U Ranches
Our experiences change lives. At the A/U Ranches you'll find a Christian Science atmosphere with staff dedicated to helping you see the role God plays in your life. Each program and activity is designed to help you break through limitations, reach your goals, and see God in action.