Adult Programs
Adventure Unlimited provides a continuum of experiences for Christian Scientists of all ages. While youth programming is our core strength, adult programming is the key to continuing those relationships. They reengage learning, and challenge participants to step outside the boundaries of their everyday life to try new experiences in a loving, supportive atmosphere.
Activities just for you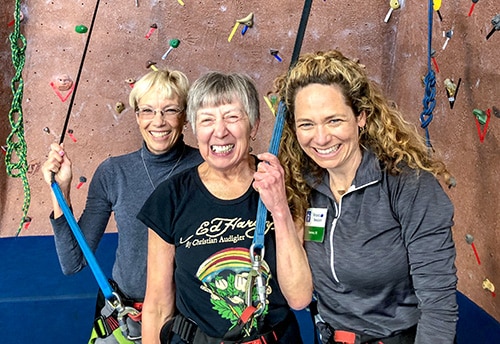 Adventure Unlimited's Adult Programs are offered at the A/U Ranches and through DiscoveryBound. They help you connect with other Christian Scientists and focus on the practical application of Christian Science while providing an inclusive and supportive atmosphere that is comfortable for everyone.
After all, why should kids have all the fun? Christian Scientists are welcome to invite Adult family members and friends of all faiths.
What a fun escape from everything that is going on in my life right now and the world! I thoroughly enjoyed spending time with new friends that expressed love, joy, freedom and a spiritual energy. I left feeling like myself again.
– DiscoveryBound Outreach Participant
A/U Ranches Bible Study
Held at the A/U Ranches in an inspirational setting surrounded by the Rocky Mountains, take part in our annual Bible program lead by an experienced and knowledgeable Bible scholar. Enjoy the fellowship of other spiritual thinkers as we delve deep into the history and relevance of the Bible parables.
Learn More
A/U Ranches Mini Camp
Mini Camp allows adults to create their own custom summer camp experience that's as active or relaxing as you would like. We've got lots of activities to choose from, so every day you can do something different! You can hone your horsemanship skills the whole time, or you can ride in the morning, go for a bike ride in the afternoon, and try something new the next day. The choice is yours!
Learn More
DB Outreach Adult Chapter Activities
DiscoveryBound Chapters answers the needs of the community they serve. Local chapters may offer a variety of events that serve parents, children, teens, adults or all these groups combined. Check with your local DB Chapter for more information. DB Outreach is also making an effort to organize events for adults (20s & 30s) to come together with their peers in a Christian Science atmosphere to socialize and network.
Learn More
DB Outreach National Annual Event
Each year, DiscoveryBound Outreach hosts a National Event over Labor Day weekend in a major U.S. city. A metaphysical theme is the core focus and a track devoted to teens and their interests as well as a track for adult DiscoveryBound Chapter Workers, those interested in starting an Outreach Chapter, DB Ambassadors (formerly Church Contacts) and adults interested in DiscoveryBound.
Learn More
DB NLC Alumni Initiative
The National Leadership Council is no longer just a 4 year program. Thanks to the new NLC Alumni Initiative, the friendships, opportunities and resources that are so important to the program are now available to NLC graduates. The Initiative offers service based trips, ways to keep in contact with current and past NLC students, additional leadership training and opportunities, career networking, and so much more.
Learn More
Join the Team
Adults also have an opportunity to share their skills and get involved with Adventure Unlimited programs through seasonal positions or as volunteers. Some of these opportunities include becoming a bunkhouse parent, working in the 100 Elk program, chaperoning teen DiscoveryBound events or mentoring NLC students.
Learn More
Youth Camp at the A/U Ranches
Our experiences change lives. At the A/U Ranches you'll find a Christian Science atmosphere with staff dedicated to helping you see the role God plays in your life. Each program and activity is designed to help you break through limitations, reach your goals, and see God in action.