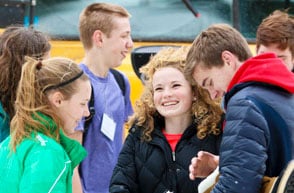 The National Leadership Council is not just a four-year program. The friendships, opportunities and resources that students valued continue to be available to graduates through the developing NLC Alumni Initiative, which is designed to connect the broader NLC community and to support additional leadership opportunities within and beyond the Christian Science community. The NLC Alumni Initiative also aims to help graduates with career networking, real-world leadership training, service-based trips and a robust support system.
Small-scale events are happening throughout this fall, winter and spring: a gathering of alumni at Principia College, various alumni getting re-involved with DiscoveryBound as chaperones, a group of alumni returning to the Ranches for the All-Class Retreat, potential for a career networking partnership with Albert Baker Fund and much more. To top it all off, a small team of five alumni, led by 2010 alumna Emily Mattson, is currently planning the first Alumni Trip scheduled for May 2015. It is truly an exciting year for all NLCers, past and present!
Be sure to join the NLC Alumni Facebook group for updates.