An NLC Graduate Award has been made available to all DiscoveryBound (DB) National Leadership Council (NLC) graduates "in good standing" to the school of their choice for the 2019-2020 school year. This scholarship of up to $5,000 can be applied to undergraduate study or trade/technical school.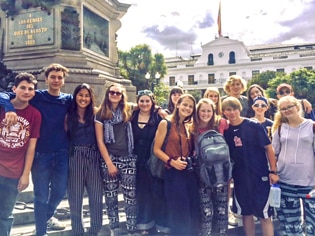 Students approaching graduation may apply for this scholarship through the Albert Baker Fund (ABF). This application will be independent of any other ABF scholarships or grants for which they may be applying and is also independent of the Principia College NLC scholarship.
"We're thrilled to celebrate this opportunity to expand the recognition of all our graduates' hard work, growth and dedication to the NLC program," says Mary Sipe, NLC director.
Would you like to support a teen in the DB NLC program? Click here to make a monthly or one-time gift.
Applications open August 12 for 2024 classes in the DiscoveryBound National Leadership Council. Learn more about this program and share it with a rising 8th-grader you know.