By Virginia Early, National Alumni Board
I have been involved with DiscoveryBound (DB) Outreach for 11 years as a teen participant, chaperone and volunteer. There are many reasons I keep coming back to give more to this wonderful organization, but one conversation in particular sticks out.
I had been helping at a DB Outreach national event in San Francisco and was asked to sit in on one of the discussion groups in case the facilitator needed help. This facilitator was actually a teen who was part of the DiscoveryBound National Leadership Council (a leadership and character development program for high schoolers). The teen facilitators were asking a group of their peers questions like, "How do you make decisions?" and so forth.
I was totally floored by the depth and insight in some of the responses. One participant – in eighth grade, I believe – remarked that he liked to examine his motives for doing something very carefully before reaching any decision. Around the circle, heads nodded, and others offered their own spiritual perspectives and insights from their own lives. As the conversation progressed around me, I found myself treated to a wealth of inspiration. Needless to say, the group ended up helping me far more than I was called upon to support the facilitator.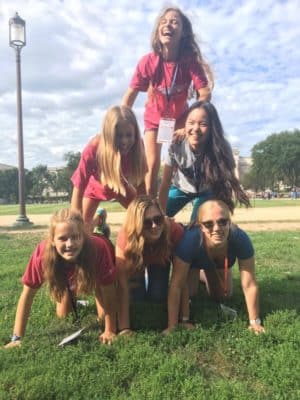 But DiscoveryBound is not just about discussion circles, no matter how wonderful and inspirational they may be. One of my other favorite things about being a chaperone is the encouragement to be childlike – to spend time playing with a bunch of engaged teens and to approach new activities with zest and joy. For example, later that same day, the group took a trip to a circus center (yes, you read that right), where the teens got to do everything from swinging on a flying trapeze to learning to juggle, walking on giant balls and doing acrobatics with silks. Other DB Outreach events have involved scavenger hunts across a city, human foosball games and more. For both adults and teens, these activities offer opportunities to broaden one's experience and try new things in a safe, unconditionally loving environment. (Let me just say that before this event, I had never, ever dreamt of getting on a trapeze, but I was encouraged to do so and found it liberating.)
As an adult, however, I particularly cherish the opportunity to spend time around teenagers who have a delightfully fresh perspective on life and who are willing to be silly with me. At the last national DiscoveryBound Outreach trip to Washington, D.C., for example, my travel group of girls and I decided to take a bunch of silly pictures. One picture involved a human pyramid, while in another case we inadvertently started a massive photo trend when we lay at the base of the Washington Monument with our legs propped up on it.
These little vignettes are only the tip of the iceberg. It's hard to write down in a brief article how much this organization has meant to me growing up and means to me now as an adult. But I will say, I am excited to be a chaperone for the DiscoveryBound Outreach trip to San Diego this Labor Day weekend, and I hope to see you there!
Connect with others on the adult track in San Diego Sept. 1-4, 2017 for the DiscoveryBound Outreach annual weekend! You'll visit the San Diego Zoo, walk through Balboa Park, hear a powerful keynote talk by a Christian Science lecturer and more. There are only a few spots left in the adult track, so register today! You can also tell your young friends (8th-12th grade) about this incredible trip – and maybe even help get them there! Learn more