By Ed Gondolf, President, National Alumni Board
The Adventure Unlimited National Alumni Board (NAB) convened its annual retreat at the A/U Ranches on a beautiful fall weekend in October. The meeting was enlivened by 10 new members, who include former board members like Jennifer Franklin and long-time Adventure Unlimited worker and former trustee Tim Potter, as well as several younger A/U Ranches and DiscoveryBound enthusiasts like Val Anderson, Kenny D'Evelyn, Katie (Clark) Jensen and Holly (Harz) Valentine. In addition to these alumni, we welcomed new members Craig Armstrong, Glenn Grow, Pam Herzer and Wynne (Staley) Pecheck. (Learn more about them in Where Are They Now?)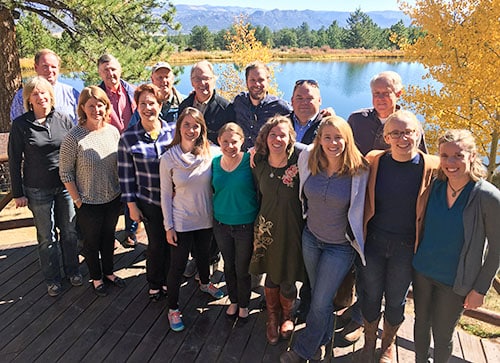 We all—new and old members—certainly felt "the divine energy of Spirit"* amidst the sharing of our treasured experiences at the A/U Ranches and DiscoveryBound programs, and in the planning of our alumni outreach and support in the coming year. There was very much a renewed commitment to connect, embrace, and inspire, as one of our members summarized it all.
Our work ahead is directed through four committees: Program Outreach, Mini-Camp/Reunions, Regional Alumni Events and Communications:
Program Outreach (Anna-Lena Hathaway, chair): This committee will be coordinating the board members' outreach through monthly email and phone calls to A/U Ranches and DiscoveryBound alumni and families. The intent is to make them more aware of the range of Adventure Unlimited programs and opportunities, draw feedback and ideas on those programs, and share our appreciation for the alumni community. The committee will also be contacting Christian Science College Organizations, not only to inform them of Adventure Unlimited activities, but also to share staffing and internship opportunities.
Mini-Camp/Reunions (Steve Chitwood and Brittany Richardson, co-chairs): Planning for mini-reunions to convene at the A/U Ranches is underway. With Adult Mini Camp being held August 20-26, 2018, the committee is currently focusing on a mini-reunion for wrangler alumni this coming summer, and is also looking forward to a mini-reunion for past staff and alumni of mountaineering programs for summer 2019. Look for more information on both early next year.
Regional Alumni Events (Virginia Early and Mark Strickland, co-chairs): This committee is working towards as many as eight regional day events and two regional weekend events across the country, with the intent of connecting alumni with each other and sharing in the Adventure Unlimited spirit. They are looking, as well, to identify and support local alumni who might be willing to help organize or host these future events.
Communications (Lane Brown, chair): The communications committee members will continue to develop the alumni news blog, Zipline, and to create alumni-led content for social media audiences, such as the A/U-DB Alumni Facebook Group. Overall, it seeks to serve as a conduit to seamlessly connect alumni from the A/U Ranches and DiscoveryBound with each other and with broader church audiences. To this end, it is working to develop communication tools for alumni that focus on personal connection, activity development and interaction across Adventure Unlimited.
Over the next year, the committees will continue their work and report out to the rest of the NAB members in monthly teleconferences. We welcome you, the Adventure Unlimited alumni family, to share your ideas and help with these activities, like phone calling and regional events.
Lastly, a new executive committee will be helping to coordinate and support all this activity: myself, president; Rusty Signor, vice-president; and Sarah Andrews, secretary. At the retreat, NAB members heaped praises for the service and leadership of our outgoing executive committee, all of whom have completed their terms on the NAB: Lara Shisler, president; Maree Sytsma, vice-president; and Christie Francis, secretary. They have not only kept NAB on course and moving forward, but also helped to bring a new, more focused structure to the board's work, along with the staff NAB liaison, Amie Chitwood. We are also grateful to Kate Robertson, who has been the Christian Science practitioner for the NAB these past years, and we welcome Pam Herzer of Buena Vista in her place. A big thanks, too, to outgoing members Richard Colarossi, Kathy McCoy and Diane Witters.
What stands out the most is how the Adventure Unlimited idea has so touched the members of the alumni board and roused them to share and nurture that in others. There was talk throughout the weekend of confidence gained, physical healings, spiritual discoveries and embracing fellowship—all thanks to Adventure Unlimited activities.
We welcome you to reach out to members of the National Alumni Board with your ideas! Find their contact information here.
* Science & Health with Key to the Scriptures, Mary Baker Eddy, p. 249