Congrats to the NLC Class of 2010!
On behalf of the Adventure Unlimited, the National Alumni Board congratulates the members of the National Leadership Council (NLC) Class of 2010 on their recent graduation! You have demonstrated a commitment to servant leadership and spiritual growth. It has been a joy learning of your class' activities and accomplishments over the past few years.
It is our pleasure to officially welcome you into the ranks of "Alumni". There are no dues or formal paperwork to be considered a member of the Alumni Association. All those who have participated in A/U or DiscoveryBound youth or adult programs over the past 55 years are considered members of this community.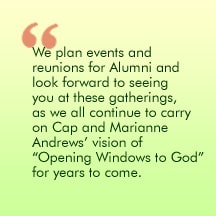 The purpose of the Alumni Association is to keep you in touch with the progress and growth of A/U in order to aid the organization and its contribution to the Christian Science community throughout the world. In addition, the intent of the Association is to renew and strengthen the member's fellowship with all those who have loved and supported Adventure Unlimited and DiscoveryBound.
The A/U website includes a special section devoted to Alumni. We encourage you to "Get Connected"on our websites to keep us up-to-date on how best to reach you.
We plan events and reunions for Alumni and look forward to seeing you at these gatherings, as we all continue to carry on Cap and Marianne Andrews' vision of "Opening Windows to God" for years to come.
With love and support,
National Alumni Board