By Lane Brown, Vice Chair, National Alumni Board
This fall, members of Adventure Unlimited's National Alumni Board (NAB) shared fresh ideas and inspiration related to connecting with, engaging and activating alumni of the A/U Ranches and DiscoveryBound (including the former A/U Chapters).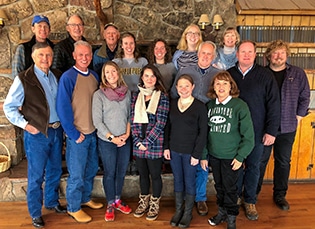 During the annual retreat held October 12-15, the group met with staff from Adventure Unlimited's headquarters during an in-person visit in Denver. We then headed to the A/U Ranches in Buena Vista, Colorado to plan our activities for the next year, as well as meet with full-time camp staff and local alumni.
Our group rolled through the camp gates on Saturday underneath familiar Rocky Mountain blue skies, as sunshine flickered through fluttering aspen leaves around camp. Overnight on Saturday, after a full day of meetings and tours at camp, the group was gently tucked in by a fresh blanket of snow. Sunday's church service in town was followed by a second day of NAB meetings in Valerie Lodge, looking out on familiar camp scenery resting under a layer of fresh powdery snow. Though the peaceful scenery made camp look almost dormant, camp staff members were still busy as ever, preparing for a final 100 Elk group for the fall season – more than 100 students arriving two days after the NAB's departure!
It was a fruitful few days for the board, where major themes of discussion included how to connect with as many alumni as possible in the coming year and develop or support existing programs that encourage regular connections to Adventure Unlimited, through either the A/U Ranches or DiscoveryBound.
The board brainstormed enrollment support for specific camp programs and new opportunities for various income channels at the A/U Ranches. One committee will assemble an alumni-led steering committee soon for the next mini reunion (stay tuned for more details!).
Collectively, we considered alumni connections that could serve as conduits for potential business leads for 100 Elk's new Retreats, Meetings & Rentals business. Complementing the outdoor education side of the 100 Elk Outdoor Center, the Events offerings make use of the A/U Ranches' beautiful facilities for corporate meetings, weddings and other large or small group retreats.
We also discussed the invaluable benefits of connecting one-on-one over the phone with alumni, with a renewed investment in reaching even more of you alumni this coming year in an effort to thank you and listen to your ideas.
The collective experiences of current NAB members span more than 60 years. Some served as counselors and field workers during the earliest years of the organization, and others are recent summer staff leaders and mentors for current DiscoveryBound National Leadership Council teens.
The NAB in particular celebrated the service of Rusty Signor, who retired from the alumni board after nine years of service. Rusty works tirelessly to spin a good yarn and spread Christian Science through brotherly love for everyone he encounters. Most recently he was part of the larger NAB group who assisted with planning for and welcoming alumni to the Wrangler Reunion this August. The event ran parallel to an auction, which raised enough money for a much-needed windbreak for the horse trap. In addition, through some generous donors, the A/U Ranches now has the funding to build a new horse care barn and other needed equipment for the horsemanship program. (Read more about the Wrangler Reunion here.)
In addition to Rusty signing off from board service, the group also said a deeply grateful farewell to Chris "Yuma" Young, Anna-Lena Hathaway, Craig Armstrong and Pam Herzer.
Joining the NAB for their first retreat were Doug Moser, Skip Franklin, Bill Webster and Cindy "Cricket" Crockett, all who have joined since the October 2017 retreat. David Kurtz also joined the NAB this fall. (Read more about them in Where Are They Now? alumni profiles.)
The fresh snow, fresh ideas and fresh promise of progress invigorated the group, energizing it for the year ahead. If you have feedback for the NAB or would like to be more involved in alumni activities, please reach out to [email protected].