By Lane Brown, National Alumni Board
Fellowship is a key piece at the heart of activities for Adventure Unlimited. Two committees operating within the National Alumni Board (NAB) are making sure fellowship endures continuously among A/U Ranches and DiscoveryBound alumni and those who are new to experiencing what Adventure Unlimited has to offer.
Regional Events
When it comes to events in your area with fellow students of Christian Science, it's not about a CS camp affiliation or even if you were a camper at all as a kid. It's about bringing the fellowship to where you are now. For some, this means seeing familiar faces together again; for others, it's an opportunity to make new friends near you.
The NAB's Regional Events committee is working hard to connect alumni of all ages around the country in partnership with DiscoveryBound Outreach. Since its creation last October during the annual NAB retreat, the committee has arranged activities on both coasts for adult participants in their 20s and beyond. Events have included an outing in Connecticut to see a sporting event and a sailing adventure off the coast of California.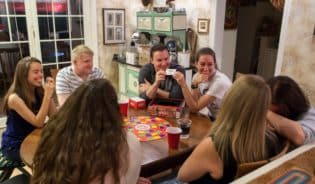 The Regional Events committee sees itself as a facilitator for helping others to gather together. All alumni are encouraged to share ideas and organize events with the help of committee members, who can assist with outreach in their area. Those with ideas for gatherings or interest in organizing something in their area are encouraged to contact Virginia Early or Mark Strickland. (You can find out more about them here.)
Mini Camp / Reunions
The Mini Camp / Reunions committee is currently working hard to build events that cater to groups of alumni from specific camp and chapter programs during the years in between the larger all-camp reunions.
This summer's Wrangler Reunion, which will take place during Adult Mini Camp (August 20-26, 2018), is aimed at those who have participated in or staffed A/U Ranches horsemanship programs and would like to reconnect with their fellow wranglers (and horse friends!) in the heart of the Rockies this August.
(Check out our Zipline article on the Wrangler Reunion.)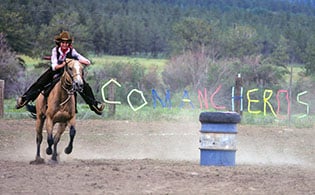 This is a perfect opportunity for horsemanship alumni to meet up with old friends, make new ones and sharpen their horsemanship skills on their summer vacation. Plus, it's a great time to sit around the campfire and share stories like NAB member Glenn Grow told in a recent Zipline blog post ("Teaching young campers to ride and care for their horses was special indeed, but what meant most to me was the feeling of freedom I found while riding every day in Colorado").
Members of the National Alumni Board are reaching out to folks who would enjoy attending the reunion and helping full-time A/U Ranches staff coordinate this year's special event. You may be hearing from Steve Chitwood, Brittany Richardson and other corral alumni – but you don't have to wait! You can make your plans now.
Similar to regional events, alumni are encouraged to create their own reunions with fellow alumni during Adult Mini Camp. Start here to get your camp friends together again in the place you've called home.