By Ed Sammons
This year, all of us at Adventure Unlimited are exploring the idea of what it means to live generously – to live with a clear sense of the abundant good God provides. Ed and Jeni Sammons are well known within the organization, and they have lived generously with Adventure Unlimited for more than 20 years. In addition to being class leaders in DiscoveryBound's National Leadership Council (twice!), they have volunteered in dozens of DiscoveryBound Outreach programs, led the cycling track during Adult Mini Camp at the A/U Ranches each summer, and have been long-time donors. Ed recently completed a 10-year term as trustee, and Jeni served nine years on Adventure Unlimited's National Alumni Board. We recently asked them to share what this type of engagement means to them.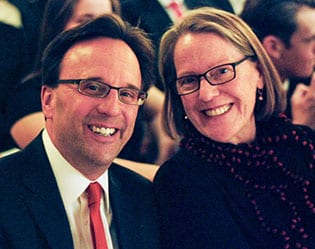 Jeni and I took a few minutes recently to ask ourselves what it has meant to be able to give our time, treasure and talent to Adventure Unlimited – what is it that got us going, kept us going and has us excited for this year of service to the organization?
What got us going was easy. We started taking our kids to Family Camp when they were small. They had such a great time, we had a great time as a family and Jeni and I were able to have a few moments of great fellowship with other parents and families that have become lifelong friends. The generosity of the staff, the willingness to help us do all the things we wanted to do and the overall feeling at the A/U Ranches brought us back year after year.
We were running the local DiscoveryBound chapter in Portland and enjoyed getting groups together for beach trips, mountain trips and all sorts of local activities. This was a way for us to be involved and contribute to the Christian Science community.
As DiscoveryBound (DB) grew, we began to volunteer for national events, and this is where our hearts were captured. We worked hard and then we played hard with a group of staff and volunteers that set a new bar in teamwork, laughter and good times. It was not unusual to work from 6 a.m. to 11 p.m. and then play cards and laugh until after midnight.
We became bicycling enthusiasts, and this led to planning and implementing five A/U Expeditions. We love sharing road bike riding and touring with groups that love to ride and laugh and play together. It has always really been about the playing with friends that makes me smile as I write this… and supporting each other through a common foundation of Christian Science.
When Deb Eastwood approached us about helping with the DB National Leadership Council (NLC), we paused and had to take a moment to think about the commitment. Four years? Classes of 20? Two-week trips? Monthly calls? Yep… we were in. What an experience that was, and we loved our second class as much as the first. We got so much more than we gave as we grew spiritually and learned organizational skills right along with the amazing kids in the 2011 and 2016 West classes. The adventures, the laughter and the growth… wow. We watched as this program grew and became more and more successful, we love how it embraces our church community and were excited by how many NLC students became Mother Church members and are published in Christian Science periodicals.
Jeni led the National Alumni Board, I joined the Adventure Unlimited Board of Trustees, and the good times continued. Working with a dedicated group of Christian Scientists to make things better and working with a group of volunteers and staff had become a part of our lives. We found ourselves reserving more desk space and calendar time for this organization.
We look forward to again running the road cycling portion of Adult Mini Camp at the A/U Ranches this August, to staying involved with DiscoveryBound, and helping complete the Bridges to the Future Campaign that will ensure good facilities, fairly compensated staff and a financially viable organization.
To sum it up… it has been and will continue to be a joy ride of spiritual growth, community connections, great relationships, hard work, hard play and… did I mention the laughter?
Good friends with a common purpose, living generously with each other and the world… it does not get any better.