By Lane Brown, Chair, National Alumni Board
Hello, alumni! The National Alumni Board members are grateful to have connected with many of you in recent months through the Fall Service Weekend, Christmas Camp, the DiscoveryBound (DB) National Leadership Council (NLC) All Class Retreat, camp shows and more. 
In addition to being in programs – both at the A/U Ranches and around the country at DiscoveryBound events – we're also connecting with alumni through social media, phone calls and conversations at church.
We're celebrating Adventure Unlimited's rich legacy through stories told in new episodes of the alumni-produced A Thousand Windows podcast, and we are regularly planning ways to welcome home alumni to the A/U Ranches through camp programs and future alumni reunions – including a 75th in 2030! 
This year, my own family is expanding how we support Adventure Unlimited. I had the honor to represent the alumni board and provide a keynote address at the DB NLC All Class Retreat in January. My husband, Michael Brown, will be stepping in as executive director for the organization in the coming months. And, finally – and perhaps really the most momentous news for our fellow parents out there – for the first time this year, our two kids will both be at Youth Camp!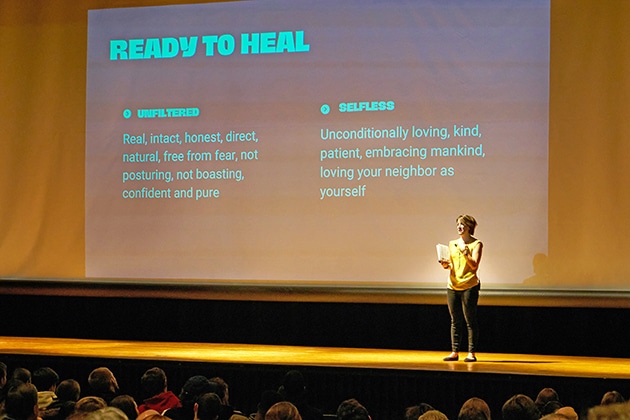 Lane Brown giving the keynote address at the January 2023 DB NLC All Class Retreat at Principia College
Want to get involved? We need you!
How can you support Adventure Unlimited right now? If you're coming to camp, shout it from the rooftops! Or at least share your plans with friends and family and make sure our program information makes it onto the bulletin board at your church and Sunday School.    
Camp at the A/U Ranches includes sessions for the entire family in June, July and August; two-week overnight youth programs; Day Camp; and Adult Mini Camp in August for us big kids. DB events are happening online and in-person, across the country, all year around, for all ages; check out the DB event calendar to find something near you. And don't forget to let the teens in your life know about applying for DB National Leadership Council and Compass. 
There are summer staff positions and bunkhouse parent roles that need dedicated, loving individuals eager to embrace their healing practice of Christian Science and serve campers of all ages. Whether you think that could be you, or you know of someone who could bless and be blessed by this opportunity, spread the word. If you're considering a longer-term commitment with high school students, check out what's involved with being an NLC class leader or Compass guide.
We always love to hear from alumni. Reach out to us through messages to the Facebook Group or Instagram account, or email us directly at [email protected]. We welcome your questions, feedback and ideas.
Hope to see you this summer!