Frank Scott was a camper at the A/U Ranches when he was a kid. As an adult, he stopped attending church due to heavy work commitments. Two years ago his brother, Bill Scott, encouraged him to start taking his 12-year-old daughter, Juliette, to Sunday School so she could come to camp. He began meeting his brother halfway to church (to cut down on the hour drive) so she could go to Sunday School every week.
Going to camp has made a significant impact on Juliette's life, Frank says, adding that it's the best thing that's happened to them. She's learned a lot and made life-long friendships. Frank is very happy is daughter is enjoying the "loving, caring atmosphere" camp provides and is thrilled that she's interested in Christian Science.
Here is Juliette's story, in her words.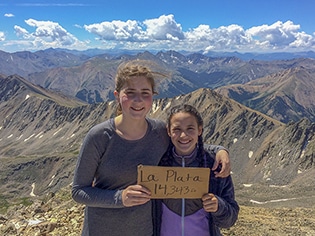 From Juliette (age 14)
I still remember the excitement I had weeks before camp and the day I left for camp. I was so beyond excited that I was even able to go!
When my cousin, Emma, and I landed in Colorado, I remember getting off the plane and seeing this big group of people and a girl holding up a sign that said, "A/U Ranches," and I was thrilled. They all greeted me with such joyful smiles and gave me even more to look forward to. At that point I wasn't too worried about meeting people and making friends because everyone was so easy to talk to and I had such a warm welcome.
When we all met up in a group with other campers and counselors in the airport, Emma introduced me to a couple of her good friends that she's known for a while, and they were so kind and sweet. I knew it was going to be easy to make friends, and I wasn't nervous really at all.
On the way to camp I remember being so excited that I would not stop talking to Emma about all of the things I'd be able to do like peaking a mountain and so many other things I'd never done before, including the airplane ride!
A couple hours later we arrived at camp. I remember pulling up, and there were so many people standing around cheering with big smiles on their faces, and it made me so happy.
When I first got there and was settling in, I was kind of quiet, but within a few hours I was getting to know everyone and telling people it was my first year and all that. I made some friends very easily, some of which I still talk to today. Everyone there was so loving and nice, and I never wanted to leave.
The first day was really nice because it gave me time to get to know everyone and make friends. I was in the mountain program called Challengers, which was so fun. One thing I loved about that was my friends in my cabin were all in Challengers and we had to do a "Challenger dip" every morning [in Sky Valley Lake], which was kind of annoying (lol), but it definitely woke me up and was worth it. My favorite part of the day was always dinner time because it was a nice way to wind down from a long but very fun day and work more on my relationships.
On my program's three-day trip, we set up camp near La Plata Peak, and on the second day we peaked it! I've always loved hiking, but I've never done something like that before. It was an awesome experience, and I remember how refreshing it was to find out we were at the top. When we made it to the top it was definitely worth it – the view was so beautiful.
Sunday School was really fun, and it showed me what Christian Science is all about. I remember going to camp being a new Christian Scientist, to leaving camp and feeling like I could write a whole 800-page book about it.
Ever since camp it has really opened my eyes to all the things that I was missing in life. The experience was amazing in so many different ways that I can't imagine not being able to go. All the people there were so unbelievably nice, and I can't wait to see them all again this summer. I ended up making a lot of friends at camp and most I still talk to and really care about. Camp is such a great experience in so many ways and I'm just so grateful that I'm able to do what my dad also did while he was growing up.
Do you know someone who would be blessed by attending Youth Camp? Let us know!