For the first time in a DiscoveryBound Outreach national event, both teens and adults were treated to their own programs that took them through vibrant San Francisco, and feedback revealed that adults love DB Outreach events just as much as teens do.
"I was so impressed by the entire program, the teenagers, our hosts for the adult track, the companionship, the fun, the laughter, the inspiration and everything about the event!" an adult participant wrote of the trip over Memorial Day weekend. She was one of 13 participants who toured the Christian Science church in Berkeley designed by renowned architect Bernard Maybeck, visited the Golden Gate Fortune Cookie Factory in Chinatown, and explored the Cable Car Museum before riding a cable car.
With a choice of three tracks – a tour of the Google campus, visiting Alcatraz, or going on a taste tour – 101 teen participants took with them throughout the day the inspiration shared by their adult chaperones and by keynote speaker Don Wallingford, C.S. Don talked about how the material senses deliver empirical knowledge from one experience to the next, while spiritual sense speaks straight from divine Mind to educate us about reality.
The teens were encouraged to use their spiritual sense all weekend in places designed to inspire, such as the highly interactive Exploratorium museum and the Circus Center, where visitors can do everything from walk on a giant ball to swing on a trapeze. And when the teens found themselves with a little extra time, they came together as one in song, both after breakfast one morning and before Sunday School at Ninth Church of Christ, Scientist in San Francisco.
Prayer in action
The last evening of a DB Outreach event is a special time for sharing inspirations and giving thanks after the final dance party. The common, resounding theme in San Francisco – from both newcomers and longtime participants – was gratitude for the loving friendships and community experienced that weekend.
There were other examples of God's love and care, too. A young man located his lost cell phone shortly after praying with the weekend's Christian Science practitioner. One teen supported another, who was upset about some troubling news from home, by reading aloud from Science and Health with Key to the Scriptures by Mary Baker Eddy and praying with him. An adult challenged himself to try the flying trapeze at the Circus Center and, as a result, felt a tremendous sense of freedom from and victory over a fear of heights. Another teen had excused herself from activities because she wasn't feeling well, and was back in full, joyous action within an hour or two at the Circus Center.
And what did the teens say they wanted to do at the end of the weekend? They were ready for the next events at Disneyland and Disney World! Learn more about these and other fall teen weekends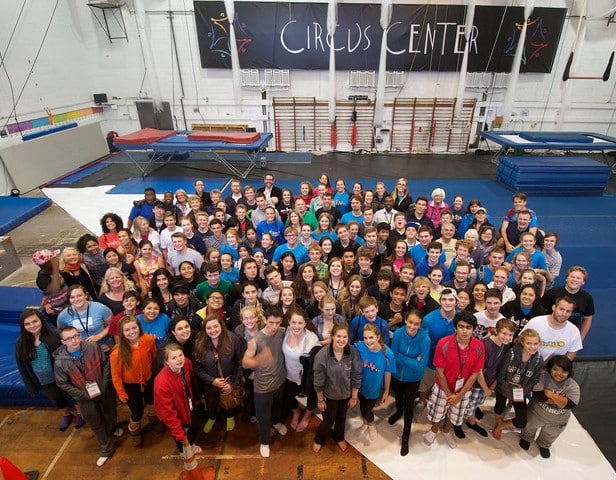 DB Outreach activities don't happen without the support of volunteers and donors. Our deepest thanks to the 19 volunteer chaperones and four volunteer staff, financial underwriting by Asher Student Foundation, and volunteer and financial support from many others who shared their love and time to help teens and adults feel closer to God through this activity. If you would like to help, you can make a gift here. Thank you!