By Brooke Morehardt, 100 Elk Assistant Director
Did you know that the A/U Ranches is open during the non-summer months? Some times of the year you can pretty much have the place to yourself, apart from a few deer! It's called 100 Elk Events at the A/U Ranches, and we are ready to host your next corporate retreat, wedding, family reunion – even a small family vacation.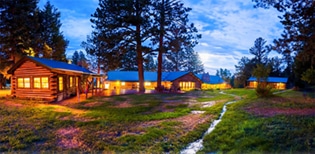 We have a full range of accommodation options, including yurts, bunkhouse cabins, cabin apartments and deluxe rooms. The yurts offer a fun "glamping" experience with easy access to trails, while the cabin bunkhouses are closer to our lodges and might have you tempted to request a top bunk! Our deluxe rooms in Aspen Grove and Highview include a kitchen/dining area so you can make your own meals if you like.
Here's what alumna Kimberly (Hoyt) Veazy shared about her family's recent stay through 100 Elk Events:
I first stayed in the Highview cabin, nestled in the woods on the Sky Valley Ranch side of the A/U Ranches, in 1978. I remember the fun my brother and I had running through the woods on an autumn day. For me there is a distinct scent from the hot sun hitting the pine needles on the forest floor that always reminds me of the A/U Ranches.
Back in those days, the opportunity to stay on property in the off season was only given to staff. Today, through the management services offered through 100 Elk Events, lodging options across the ranch can be made available for families and groups. This year my extended family and I had the opportunity to stay in Highview cabin for a New Year family retreat. The cabin provided the perfect spot to enjoy walks, games and family time. The new renovations with large rooms, private baths and full kitchen made our fondue New Year's Eve time extra special.
We're excited to share our healing environment with a wider audience while maintaining our community standards (which includes remaining an alcohol- and substance-free facility). We've also created a partnership with the Surf Hotel in town for groups holding their conference/meeting at the A/U Ranches but dining/sleeping elsewhere.
Another exciting development is the decision to list a few of our accommodation options on Air BnB! This is geared toward smaller groups/families looking to have a weekend getaway at the A/U Ranches. Both Highview and Homestead Apartments (North and South) will be listed on this platform soon.
Some examples of groups we've had so far at 100 Elk Events includes weddings, celebrations of life, dance groups, wilderness first aid courses – plus interest from fly fishing and birding groups, family reunions, and trail running races. Let us help you host your next event!
We hope you'll think of 100 Elk Events when planning your next event or recommend it to friends and groups you think might be interested. Visit 100elk.org/events/ for more information and great photos. For questions or to make a booking, call 888.543.4849 or email [email protected].