By Tiffany Logan
Tiffany has spent a lifetime with Adventure Unlimited, including Youth Camp, Christmas Camp, and, most recently with her daughter, the DiscoveryBound Outreach National Annual Event in Washington, DC over Labor Day weekend. She shares below how her introduction to camp – and a horse – transformed her view of herself and her life.
Before that summer, I was a girl who lived like a raindrop at the end of a pine needle. Playing fast and loose with time, a loner orb stained by rebellion, questioning my worthiness, searching for my voice. I landed as a hired manager in a mountain log cabin lodge. A weed pulled from the Arizona desert. My costume hat from Disneyland, with the giant black velvet bow and rhinestones, screamed alien. My permed hair stuck out like cavatappi the color of lemonade-muddied tea. I wore fake orange fingernails. The lodge confronted my most unredeemed affections and a summer stretched out in front of me like an Everest expedition.
Funny how when God calls, plans melt. Mine dripped all over the points of the steely mountains while the wide Colorado sky opened in torrents of holiness.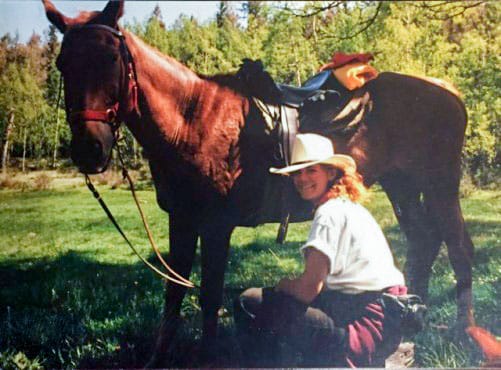 A horse the color of red Oklahoma clay trotted to the fence to examine me with his chocolate-brown eyes. It was as if God patted the bench seat next to Him and told me to slide on in forever. I decided to take that ride. I let leather and horsehair settle into my untrained hands and into my bones. Red nuzzled the cowboy in me awake. In the hammock of the saddle I let him rock me into soft cotton. Hooves padded on the crunchy pine needles laying between the spruce, through tunnels of pale yellow light. Thoughts spun and flickered, rising bright embers. I suddenly remembered long forgotten promises in loved verses and lines of precious volumes. It was I that needed healing but he that I prayed for. I whispered to him of his sure footedness, grace and power. In answer, we sprinted in unbroken fields swallowed up in green, losing touch with the ground entirely. My body sank into the earth at the end of every day while my mind continued to spiral heavenward, on a mission to break open.
The Lord is my shepherd; I shall not want. He maketh me to lie down in green pastures: he leadeth me beside the still waters. He restoreth my soul.
He tenderly looseth all my mistakes and all that is unlovely. He giveth me horse footprints where there used to be emptiness. He surroundeth me. Anticipating every step, He upholdeth them in His hands. He assureth me there is no fall. He poureth purity into my wayward wildness. He leadeth me to the mountains and bid me be born again.
The girl strode in, eyes open, and impaled herself deliberately on the unknown. She cried yes to everything. She came in as a deep bruised ache and left as the orange air of the morning. Where did she go? She went back to the beginning where there is no story. She went to the point of creation to let herself be written again. She went home.
I like to think of her there.
Called by heaven. Protected by the cowboy. Loved by the chestnut horse. Completely free.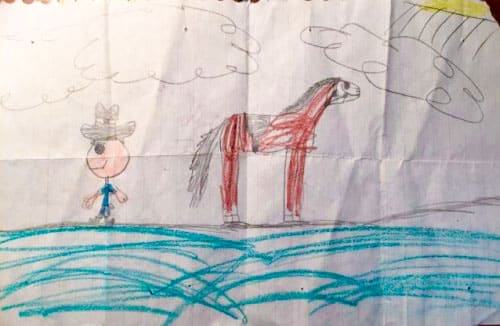 We'd love to share your stories. Send your memories from the A/U Ranches or Chapters (DiscoveryBound) to [email protected].