By Cass Orth-Moore
Sky Valley Ranch Corral Program Head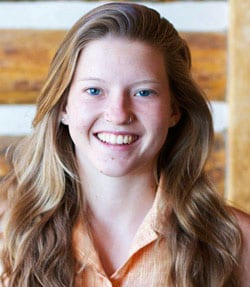 Over my four summers as a staff member, I've been told plenty of times by parents, fellow counselors and campers how much I influence campers every summer. I came to the realization early in the summer that the reason I am where I am today is because someone made that effort for me. I know the things I know because someone took the time to teach me, and I act the way I act because someone took the time to correct and shape me. This realization has been so motivational and healing for any lethargic moments that might have tempted me.
Something happened on the first day of first session this summer. Campers were in the process of mounting their horses, and there was a situation in which one horse managed to dislodge a camper from his back. I was on the scene immediately, and was upset to hear, "I can't feel my legs," come out of the camper's mouth.
I couldn't tell you what my thought process was in that particular moment, but I know that my motivation for approaching the camper was entirely out of love for her. We followed procedure when the rest of the staff arrived on the scene and asked for help from the summer management staff, practitioner and nurse. While we were waiting for the help, we stabilized the camper's head and neck and discussed her options. She could give in to the suggestions that error was giving to her, or she could say, "Get thee hence, Satan," and turn to God.
That moment was a turning point for the camper, as she realized she could feel her legs and that she was so ridiculously loved, that it was absurd to think that error had a place in her thinking at all. We returned to the rest of the program as the camper was taken to the nurse's station at High View, and two hours later we discovered that the camper was up and walking, and had shared gratitude at flag. She made Christian Science her own that day, and she realized that she could heal without the help of her loved ones. Teaching her that she has a choice in what she believes made all the difference, and I know she will continue on the track she's on and become a beautiful woman.
In this situation, the changing factor was that the camper was able to have her own healing by knowing that she could make a choice in what she believes. I am so honored to participate in changing the lives of younger people, because it means that I am able to give back to all the people who helped shape me. What is life if you can't give back? Camp gives so many people a purpose.
To help continue the growth of the A/U Ranches, please consider a one-time or recurring gift by selecting

A/U Ranches Fund

from the Designation menu in this online form. You can also email or call us at 303.779.3000 ext. 107.
Thank you for your support!
 Adventure Unlimited – DiscoveryBound is a 501(c)(3) charitable organization. A/U-DB Foundation is the fundraising arm of Adventure Unlimited.