Free advice: We've all heard the line about what that's worth. But in the case of the Albert Baker Fund's Career Alliance, their no-charge career services can provide just the valuable guidance and connections a job-seeker needs.
Anyone in the extended Christian Science community or friendly to Christian Science can benefit from the networking events and career mentor services that the ABF Career Alliance offers – whether interested in their own career path or helping someone else, college-age or retired from full-time work.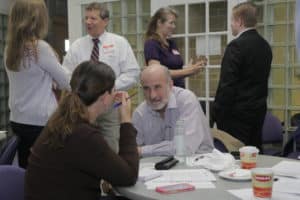 Here are three free upcoming events on the East Coast, hosted by the ABF Career Alliance:
Friday, June 22, 2018 in Boston
Held at the Longyear Museum, this event features a keynote talk by Mark Sappenfield, editor of The Christian Science Monitor: "What if reading the news could bolster your faith?"
Saturday, July 28, 2018 in Washington, D.C.
Held at the new Museum of the Bible, this event features a keynote talk by Bible scholar and lecturer Madelon Maupin, who will also give a tour of the museum.
Thursday, August 23, 2018 in New York
Held at WeWork Bryant Park, this event features a keynote talk by a staff member of The Christian Science Monitor.
In addition to these inspirational elements, the events will include a panel of local professionals who are Christian Scientists as well as structured time for meet-ups. The ABF Career Alliance offer these events as opportunities to "network with Career Allies who share your spiritual values, get inspired by the spiritual perspective behind successful careers, and come away with new views of your place in the world of work."
For more information and to register, visit the ABF Career Alliance.