What's the next big project for A/U?
Well, thank you for asking.
Actually, we are often asked by donors, "What's your top priority for funding this year?" Naturally, we all like to know that our contributions will address the most pressing needs of the organizations we love and support. For A/U, the support of our Annual Fund is the foundation of all our programs at the Ranches, DiscoveryBound national events, and the National Leadership Council.
There are many major projects we have in front of us, but we cannot take the first step without first insuring we meet our Annual Fund goal which supports our most valuable asset—our dedicated and talented staff members that make it all happen!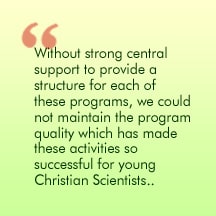 Before the end of the year we need to raise $853,000 to fund the core of all our A/U and DiscoveryBound activities. Without strong central support to provide a structure for each of these programs, we could not maintain the program quality which has made these activities so successful for young Christian Scientists.
We've been busy expanding our programs and enhancing the facilities.
Click on the links below to see the highlights:
– A/U Ranches Facilities Update >>
– 2011 Ranch Program Dates & Rates >>
– DiscoveryBound Programs 2011 >>
Support the future of CS youth
We believe the future of the Christian Science movement is our youth. They are demanding our focus to satisfy their thirst to grow spiritually – and we are staying in tune with where they are at and what connects with them. It is a huge undertaking and we can only do it through your generous support.