It's a typical beautiful day in Southern California as Richard Colarossi, who lives with his family—wife Buff, daughter Ellison (13) and son Dean (15)—in Dove Canyon, reflects on what Adventure Unlimited has meant to him since he first attended the Ranches as a teen.
Following his initial camp experience, Richard became a counselor on the rafting staff, but he wasn't an active alumnus until he attended the 50th Reunion, when he and Buff felt drawn to reconnect after what he describes as an "incredible weekend with camp friends." Now, his family is involved in the local DiscoveryBound (DB) chapter in Orange County, his son is in DB's National Leadership Council (2017W class), he and Buff are NLC mentors, and he's a member of the A/U-DB National Alumni Board, which is actively planning for the 60th Reunion to be held August 21-24, 2015, at the A/U Ranches.
"There is nothing better than witnessing your children as they grow spiritually, overcome limitations, make new friends and have a lot fun along the way," he says.
Cherishing the development of both their children and those they mentor in the NLC, Richard and Buff felt it was important to give back to the programs that have shaped their lives over the years, including through Adventure Unlimited's Pathways to Remember Brick Program.
"We bought a brick to support the future leaders in the Christian Science movement," Richard says. "The Adventure Unlimited and DiscoveryBound organization is so important to the demonstration of Christian Science in the world."
When he is not having fun with A/U and DB, he has a financial planning practice for AXA Advisors in Irvine, CA. He is also a scout leader for Dean's Boy Scout troop and assists in coaching high school track and field athletes.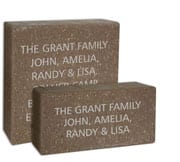 You, too, can get your name on a brick as part of the permanent pathways at the A/U Ranches. Purchase before January 31, 2015, and see your completed brick at the 60th Reunion. Find out how here. 
Adventure Unlimited – DiscoveryBound is a 501(c)(3) charitable organization. A/U-DB Foundation is the fundraising arm of Adventure Unlimited.