By Emily Staunton, Alumna, DiscoveryBound National Leadership Council
The hugs with huge smiles were just as numerous. The deep questions invited me to dig yet again. And of course, the weekend wasn't complete without snowball fights. Chaperoning at the All Class Retreat (ACR) this past year felt like coming home.
As a member of the DiscoveryBound (DB) National Leadership Council (NLC) class of 2016 East, it's been 10 years since my first ACR, yet my love for the program remains strong. My part-time work with Friends of the Christian Science Monitor, an organization that supports NLC's Praying for the World project, opened the opportunity to volunteer as a chaperone at the 2022 ACR at Principia College.
One favorite memory from my first ACR (held at the A/U Ranches) happened our first night. As a few classmates, one leader and I trudged through snow to reach Valerie Lodge for dinner, we encountered a bus with a tire stuck in a snowbank. Time to put our teamwork to the test, we decided. We lunged and shoved as the driver accelerated, and soon a few more classmates joined us. Just a few hours into meeting each other, not only had we helped free a bus, but we also had already proven a bit of our leadership, with many more opportunities to come.
I thought about this memory during this past ACR as I looked at the eager faces of the eighth-graders huddled in a circle on the couch in front of me. As a chaperone, I was paired with 2026B, one of the two newest classes. I spent the weekend feeling like I was looking in the mirror… 10 years earlier. What will they do together? How will they grow? I can't wait to find out! Just as my bus experience was only the beginning of how my class would grow, I knew that this weekend was just the start of these teens' growth together.
While at the ACR, another participant reminded me of a special experience for my class. Our class's adventure trip included a five-day canoe trip down the Michipicoten River in Canada. Day one was long. Very long. We canoed across a seemingly never-ending lake and paddled farther than expected because the water level was too high at our planned campsite. 
With sunburnt and sore arms, we docked at a shoreline for dinner. It wasn't where we would be staying, but our leader of the day deemed it a good place to quiet rumbling stomachs. As we prepared to cook dinner, several families nearby greeted us and offered to feed us… all 22 of us! It truly felt like being fed in the wilderness when we needed it most.
The lessons and companionship of NLC are much like that meal in the wilderness. Whether in eighth grade or now a couple years out of college, my NLC experiences always abundantly feed me exactly what I need. During this past ACR, that "meal" consisted of several things.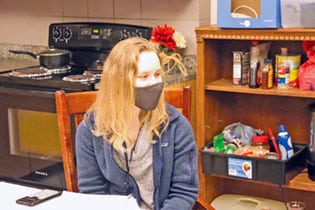 Going back to ACR was not just a pleasant walk down memory lane, although it was special to see familiar faces and participate in leadership activities. Deeper than that, it was a return to my foundation and a reminder of the giving reflection of Love we all are. I found renewal in the inspiring teens coming after me, and I appreciated the chance to prayerfully support myself and others that weekend.
Again, NLC turned me to consider how I can give in my own life and deepened my gratitude for the endless lessons that extend well beyond four years. As a one-of-a-kind experience, NLC can't help but include all of us in its blessing and encourage us to go out and bless others. 
Do you have a story like Emily's that you want to share? Email us at [email protected] to share how an experience in one of Adventure Unlimited's programs has impacted your life.