By Holly Harz Valentine, National Alumni Board
For many A/U Ranches mountaineering alumni – plus those of us on the National Alumni Board (NAB) – the Mountaineering Reunion held during Mini Camp in August was a happy reconnection several years in the making.
Planning started shortly after the highly successful Wrangler Reunion in 2018, which also helped raise funds for the much-needed Lachlan Clarke Horse Care Barn. It was originally scheduled for August 2020, and then postponed to 2022 to ensure the familial atmosphere common in reunions. The NAB wanted alumni from the mountain programs to come play, reunite with friends and loved ones, and breathe fresh mountain air as they walk out of their cabins every morning. As chair of this committee, I felt a deep connection to the planning process and wanted to get as many alumni involved as possible.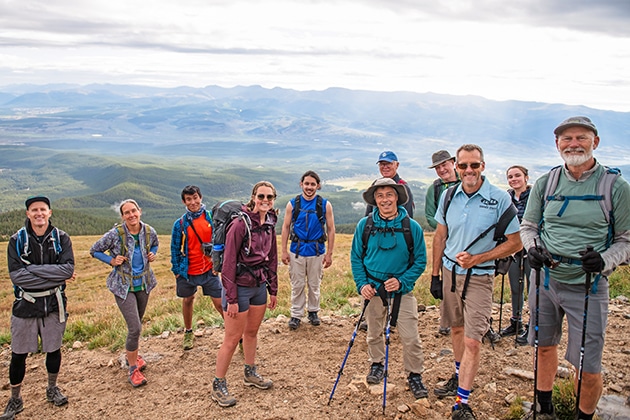 Mountaineering alumni enjoyed climbing and hiking the Rocky Mountains.
And it was such a great week, full of many exciting activities. We went on both lower-mileage hikes and the all-essential peak climb – Harvard Lakes, Ptarmigan Lake, up Sleeping Indian across the valley and to Columbia Basin. We enjoyed time well-spent on belay from the ropes course to Turtle Rocks. We reminisced during Happy Memories Hour, where alumni shared memories and stories from their time in the mountaineering programs at the A/U Ranches. We learned from a current mountain staff member about the mountaineering standards and regulations the staff and campers abide by: limited numbers in hikes, bringing essential gear to every trip (sleeping bags, care kits, and a pot and stove just in case, in addition to the "bear necessities" of water, layers, raincoats) and permits, which the A/U Ranches are required to apply for to hold activities off property during the summer.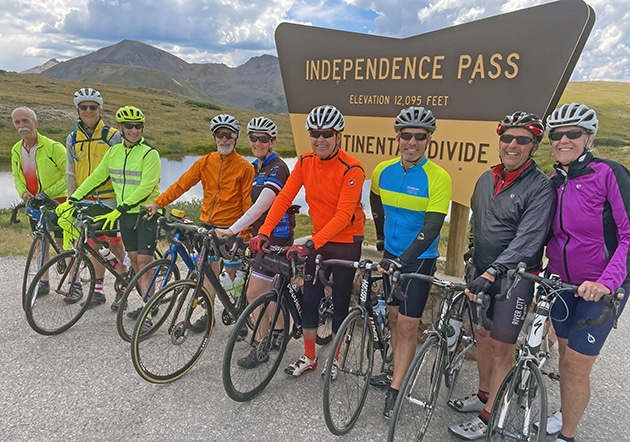 Cycling alumni conquered Independence Pass in their small saddles.
We invited two A/U Ranches alumnae to speak, who shared how Christian Science is present with them in their mountain and back-country careers. Annie Hughes, a Hoka-sponsored ultramarathoner, came to our campfire to chat with her dad, fellow NAB member Doug Moser. They talked about how she found her love for the Colorado mountains (now her home) at Family Camp, which also fueled her passion for running in the mountains. Annie currently lives in Leadville and enjoys the trails found right outside her door and all around the southwest. 
Jess Lewis, a professional mountain and rock climbing guide, also spoke to alumni about her time climbing big walls, including in Antarctica. She shared how the "power of presence," or God, was with her, helping her and guiding her the entire time, even when the human picture didn't seem to support achieving her goal.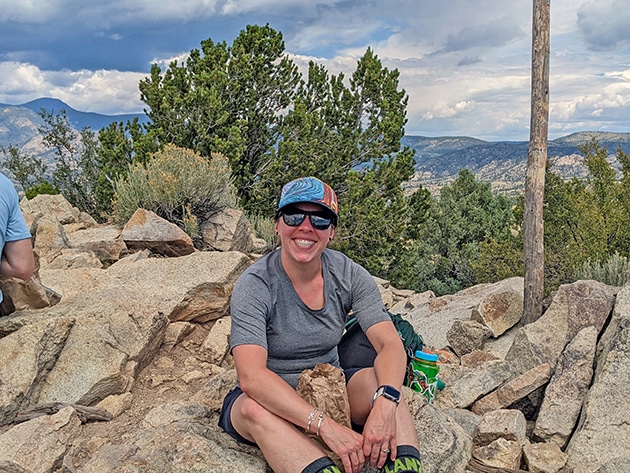 The author taking a break in the outdoor fun during the Mountaineering Reunion.
Meeting new alumni is a huge part of being in the NAB. Hearing stories of mountain-peakers who came to camp before me, spending nights at the peaks and lighting fire signals to one another, sometimes with 15 people or more on hiking trips on the same mountain, gave me a close and happy feeling of home.
The Mountaineering Reunion was a special opportunity to meet and hear amazing stories from former and present staff and campers. We shared our stories of smiles, excitement and elevating our spirituality. I cannot wait to learn how Adventure Unlimited impacts the lives of even more alumni at the next reunion.
Thank you to everyone who came to the Mountaineering Reunion or shared their photos and memories if they weren't able to come. We always want to hear your stories! Send them to [email protected] and they may be published in this blog.