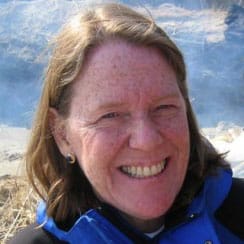 By Jeni Sammons,
National Alumni Board President
My affiliation with Adventure Unlimited and DiscoveryBound over the years has given me the best gift – friendship. In the 60s and 70s I participated in the Conqueror program as a camper and staff at the A/U Ranches resulting in an extended sense of family. Today this group of mountaineers has expanded to include three generations now, enveloping even more alumni, and as in the past – it is an incredible support both personally and for the A/U-DB organization.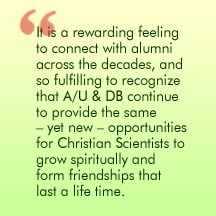 As co-leader of the DiscoveryBound National Leadership Class of 2011, I recently received an email from one of our students. She shared experiences from her time spent this summer as a Counselor-In-Training in the Conqueror program at Round-Up Ranch. Specifically she recalled a 5-day backpacking out-trip on a route that I knew well.
It is a rewarding feeling to connect with alumni across the decades, and so fulfilling to recognize that A/U & DB continue to provide the same – yet new – opportunities for Christian Scientists to grow spiritually and form friendships that last a life time.
As witnessed in my own experience, those of us who have been touched by an A/U or DB experience have a special bond with one another and the organization.
The goal of our A/U mountaineering "family" is to reunite at least once a year. This year we got together in Montana to take part in a renowned adventure foot race – The Bridger Ridge Run – directed and managed by A/U alumnus, David Nutter Summerfield. David reached out to each of us and encouraged us to run the race or be part of the support team. How could we resist! As expected, it was full of adventure, challenge, camaraderie and personal growth. David managed every detail for the 367 runners registered to attempt the 20 grueling miles. Alumni Mark James, Josh Niles, Leif Summerfield completed the run with myself, Darci Niles, Candy Jagel, Kathi Summerfield and Ed Sammons volunteering at mid-check-point stations – high on Bridger Ridge along the route.
As I fulfill my third and final year as President of the A/U-DB National Alumni Board – I want to encourage each person who has ever been touched by an A/U or DB experience to re-connect with fellow campers or event participants AND to reach out across the decades to other alumni who have been forever changed by an A/U or DB event. Consider inviting others to come to the Ranches, attend a DiscoveryBound event, participate in an A/U Adult Expedition or find a way to give financially so that others may do so.
You are each part of a bigger A/U family! Please keep us updated on where we can contact you (create/update your profile online) and most importantly continue to share and support the A/U-DB experience!
Jeni Sammons, President
National Alumni Board