Rob Wood had an idea. A former camper, counselor and operations coordinator at the A/U Ranches, his most recent role was performing a variety of administrative responsibilities as well as managing the camp stores and rifle range.
Rob is also a talented woodworker. He realized that the Adirondack-style chairs he makes could be a beautiful, functional and "supportive" addition to the A/U Ranches. What resulted is a new, limited-run opportunity for alumni and friends to purchase one of these chairs for Sky Valley Ranch and Round-Up Ranch – with a personalized, commemorative message.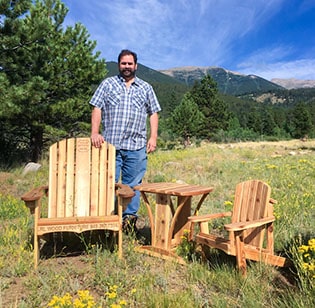 "I am just so pleased to be involved with this project," says Rob, who lives and works in Buena Vista selling real estate, in addition to making custom furniture. "Doing something for the A/U Ranches means so much to me."
Forty chairs, made of a combination of cedar and a hardwood, will be available for a tax-deductible donation of $400 each. They'll include the A/U Ranches logo on the back and a custom message engraved across the seat front. These durable chairs will also replace the plastic versions that blow away in strong winds.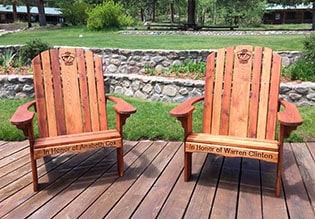 "The A/U Ranches has been an important part of my life, as it has been for so many," Rob says. "It's an honor to be able to support Adventure Unlimited by making furniture – creating something that's both artistic and practical."