Welcome Home!
You know, so well, what a special organization Adventure Unlimited is, but do you know you are a big part of the reason why? You're forever part of our story, and we hope to continue to be part of yours. Regardless of your current faith practice, we invite you to stay connected with all your friends at Adventure Unlimited.
FROM KATHRYN
While attending the A/U Ranches I had a spiritual awakening that made me feel excited for the rest of my life and made me realize I could be the person I want to be by seeking to glorify God.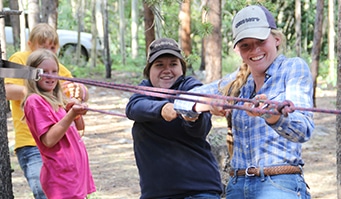 Always a member of our family
Just as you are committed to us, we are committed to you. Adventure Unlimited endeavors to provide all alumni with continued fellowship and to help you connect or reconnect with the organization that will forever cherish you.
One quick and easy way to stay connected with Adventure Unlimited and other alumni is to join the A/U–DB Alumni Facebook Group or any of our other social media outlets.
If you can't connect on Facebook, send us an email with your message and the name of the person you want to reach. We'll forward it if we have an email address on file.
Who are Adventure Unlimited Alumni?
Glad you asked! You're an alumna or alumnus if you're 18 or older and currently or formerly involved with Adventure Unlimited in one of these ways:
A/U Ranches staff, participants and volunteers (including bunkhouse parents)
DiscoveryBound (formerly A/U Field Program) staff, participants and volunteers (including church contacts, chapter workers, chaperones and facilitators)
All other Adventure Unlimited staff
Trustees
We encourage you to follow our Zipline blog, participate in Adult programs designed just for you, come to Reunions or consider volunteering at the A/U Ranches and for DiscoveryBound. There are many ways you can stay connected, but whatever you choose, we look forward to continuing our relationship with you.