Zipline catches up with alumni of A/U Ranches and DiscoveryBound (formerly A/U chapters) programs: Justin Froese, Kate Rott and David Nutter Summerfield.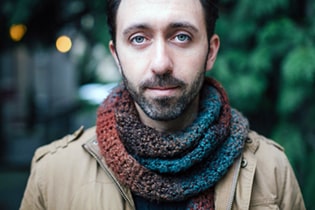 Justin Froese
Justin Froese first experienced the A/U Ranches at Sky Valley Ranch [2nd-8th grade] when he was young. His grandparents, Dick and Diane Froese, served the A/U Ranches in all sorts of ways, including as Ranch Managers in the 1960s. One summer in the 1980s they drove Justin and his cousins to camp for a session, and it made a lasting impression that brought him back in his late teens to attend Round-Up Ranch [for high school students]. Those summers experiencing a loving community and outdoor adventure in the Rockies awoke the healer in Justin and eventually inspired him to become a camp counselor.
Serving as program head for the Mountaineering program, Justin enjoyed the growth and healing that came with his campers and fellow counselors. His love of music naturally led to him playing his guitar at variety shows and campfires. He became known for his guitar playing and was sought after to share his gifts. For many, his music was inspiring and healing.
Since then, Justin has shared his musical gifts with thousands of people across the world – in person and online. He's released 10 albums, produced many albums for other artists, and guided fellow creatives to a deeper expression of Soul. Today Justin is a creativity coach, songwriter, music teacher and performer. His passions are in guiding people through their journey of creative self-expression and in creating custom songs that reflect their spiritual journey.
Being in service to young Christian Scientists on their spiritual journey is one of Justin's fondest memories of his A/U Ranches experience. The spiritual breakthroughs for himself and his campers and fellow staff are deeply treasured. Above all, the way his fellow Christian Scientists received him and his musical gifts have left him ever grateful for his experience at the A/U Ranches.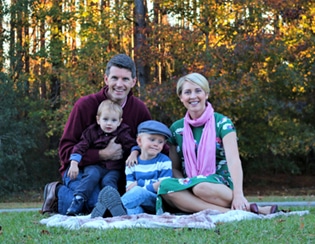 Kate (Allen) Rott
The last few years have found Kate and her husband, Christian, on the east coast in Savannah, GA, where she works as a commercial lender at a small community bank and he at Gulfstream Aerospace. She enjoys working with local businesses and non-profits that make a huge difference in the fabric of the community. Two things thrill her about the job: 1) learning about the ideas and resourcefulness of small business owners and how she can contribute to their success; and 2) contributing to the progress and innovation of her community, which is on a rapid growth trajectory.
Moving to the South for work and then putting down roots was something Kate never would have dreamed of as a girl growing up in Southern California, which, she says, "shows how far a sense of adventure and humor will take you." In Southern California, she was involved in the A/U Chapter events in Orange County, which promoted not only a sense of adventure but also "an appreciation of what connects us all as human beings." Having a huge dose of curiosity and understanding the common denominator that connects us all have proven to be keys to her success, from living/working in Europe to her current line of work.
The joy that comes from witnessing what unfolds in life was taken to new levels when Kate and Christian had their two boys, Paul and Finn. While gaining fluency in another language and competing in a 140.6-mile Ironman triathlon were challenging items she's checked off her bucket list, she knows for a fact that raising children will be the most challenging and also the most rewarding thing she and her husband will do in life. "We have so much fun learning who these little people are and introducing them to the things in life we love," Kate says.
The sense of humor and adventure necessary for a fun and connected family culture is her current focus. She looks forward to the time when she can introduce her sons to the people in a local DiscoveryBound chapter and adventures at the A/U Ranches in Colorado.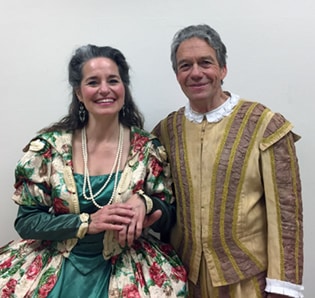 David Nutter Summerfield
David was a junior counselor under Alan Orcutt in 1964, spending the summer in Lazy L cabin. That was also when he climbed his first 14,000-ft peak (Mt. Princeton). He returned in 1969 as the head Conquerors counselor and continued to develop the Conquerors program, taking trips out of camp through 1974 and back again 1983-1984. David also came to Christmas Camp several times and spent many years living year-round in the Snowshoe cabin. He also attended the 2005 and 2015 Reunions.
David moved to Bozeman, MT, in 1993 and has "gotten quite involved in a busy life here," he says. After retiring from teaching French, he started a cleaning business, which allows him the freedom to run, hike and ski to his heart's content. He's active in a running club and has been the race director of the Bridger Ridge Run for 25 years – an adventure run across a mountain range behind town, unmarked and quite challenging. Several years ago, alumni friends Jeni and Ed Sammons and Mark James and his son came to Montana to run it and help out at the main aid station. David also organizes The Opera Run, a 5/10-km event to showcase the current opera in town in which he participates as a chorus member.
Several years ago he married a fellow singer from the chorus – Stacy AuCoin – and they have formed an organization called Passages and Pathways, which puts on meditations each week for the public as well as retreats and workshops.
Where are you now? Let us know!