Zipline catches up with alumni of A/U Ranches and DiscoveryBound (formerly A/U chapters) programs: Matt and Owen (Loose) Bissell, Jennifer (Little) Pierce and Cindy (Peyser) Safronoff.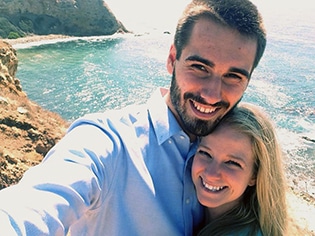 Matt and Owen (Loose) Bissell
Owen and Matt both grew up attending the A/U Ranches as summer campers, and they anxiously awaited coming to the Ranches every year! Matt loved being surrounded by so many other Christian Science kids and feeling spiritually inspired, and Owen always looked forward to growing her understanding of divine Love through challenging adventures, spiritual study, and fostering friendships with other campers who returned every year. They both came to think of the A/U Ranches as a beloved "home away from home."
With so many fond childhood memories at the A/U Ranches, they were so excited for an opportunity to return when a DiscoveryBound Outreach event for young adults was offered in January 2014. Though they never crossed paths during the summer sessions as kids, they met in the baggage claim at Denver International Airport while awaiting their shuttle to the Ranches. After enjoying the event and connecting through several discussions about metaphysics, they started to foster a deep connection and friendship. Six years later, they are married and so grateful to be supporting and uplifting one another as a budding family!
Currently, Owen and Matt are living in Sherman Oaks, CA. Owen graduated from Principia College with a BA in English and Education, as well as her teaching credential. She has been working for seven years as a first-grade teacher at Berkeley Hall, a school she has loved for its mission to "empower children to fulfill their unlimited, God-given potential" and for its foundation in Christian Science. Matt graduated from Cal Poly Pomona in 2018 with a BA in Urban and Regional Planning and has since been working in real estate. He truly enjoys making connections with people, researching LA's local communities, and working to find families homes they will love. They currently attend church in Studio City near Owen's mom, and love to spend their free time with both sides of the family (including their two adorable nephews)!
Matt and Owen are thankful every day to have met in a mutually special place. They can't wait to return to the A/U Ranches again down the road and hope to one day share the camp experience with their future children.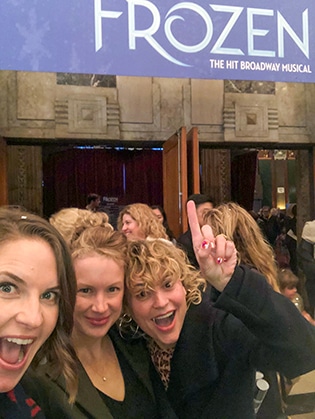 Jennifer (Little) Pierce
Jennifer joined the A/U Ranches family as a Sky Valley Ranch (2nd-8th grade) camper in 1995. She'll never forget the moment she stepped off the bus and heard her two cabin counselors, Liz and Amy, cheer her name. It was the most memorable and warmest of welcomes and launched Jennifer off on a wonderful A/U Ranches journey.
As a camper, Jennifer enjoyed two summers at Sky Valley in the Challengers program and two summers at Round-Up Ranch (high school) in the Mountain Mosaic program. She loved the variety of activities, including rock climbing, ropes course and the backpacking trips. During Jennifer's last summer as a camper, she joined the rafting program. Her enthusiasm and dedication to learning to guide the river earned her the Golden Helmet award at the end of the session.
While Jennifer attended Principia College, she worked at Sky Valley as a camp counselor in the Challengers program, where she first started as a camper. She also helped run the first ever soccer program (Jennifer played on the women's soccer team at Principia College). After graduating from Principia College in 2005, Jennifer returned to the A/U Ranches as the head of the Mountaineers program at Sky Valley. This was the same year Adventure Unlimited celebrated its 50th birthday.
Twelve hours after returning home from the A/U Ranches, Jennifer started her first day of what would become a nearly 11-year career with Amazon.com. During her tenure at Amazon, Jennifer worked on a variety of projects, including Amazon's book publishing platforms, Kindle devices, customer reviews and third-party marketplace. She worked in Amazon offices in California for five years and at the headquarters in Seattle for six years.
Jennifer met her husband, Lucas, while working at Amazon. They were married in 2014 and have two children, Pixley (4) and Wesley (1). Jennifer and her family currently live in Los Angeles. Lucas is a technical director for Snap Inc. Jennifer is a mom wearing many hats. She's a chapter president for PEO, a non-profit organization that provides scholarships to women continuing their education after high school. In Jennifer's spare time, she also writes an Instagram blog called @spiritlifetruth, where she talks about enjoying a plant-based lifestyle.
In January, Jennifer organized a mini Adventure Unlimited reunion with fellow alumnae Michelle (Armstrong) Lauria and Emily (Nofsinger) Kuhl. "The friendships made at camp really do last a lifetime!" she says.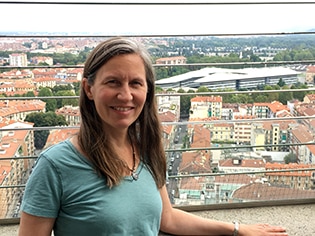 Cindy (Peyser) Safronoff
Cindy's A/U Ranches experience began as a high school summer camper in the rafting program and continued with rafting staff during her college years. Later, she went on A/U expeditions to Nepal and the Grand Canyon. She's spent many Christmases at the A/U Ranches, both as a guest and staff, appreciating the many opportunities for both activity and quietude.
Besides the friends and role models who have been such a big influence, leadership lessons she learned through her participation in camp programs have been valuable in her personal growth – "especially the encouragement to take the initiative, the importance of knowing and using your resources, and team building skills," Cindy says.
In recent years, Cindy has been applying many of those lessons to her new career in historical biography. In 2011, she published a short story e-book about climbing Mount Rainier with a self-guided team of women. Since then, she's focused almost entirely on Christian Science history. Her book, Crossing Swords: Mary Baker Eddy vs. Victoria Claflin Woodhull and the Battle for the Soul of Marriage (2015, This One Thing) won 10 book awards and was featured in the Sunday Boston Globe.
Cindy currently has a work in progress on the history of the Christian Science branch church movement (called Dedication: Building the Seattle Branches of Mary Baker Eddy's Church, A Centennial Story) that was inspired by her branch church's centennial and the dedication of its new building. She has a podcast and has given talks on the topic at conferences in Taiwan and Italy and at Town Hall Seattle, which operates an arts and civics organization in a renovated Christian Science church edifice in downtown Seattle.
She also shares what she's discovering about Christian Science history by making creative displays at the Christian Science Reading Room in Seattle's University District, where she's librarian.
"Since I began researching and writing books, I haven't been able to attend as many A/U Ranches programs as I would like, but I enjoy seeing the image of Five Fingers every day as I walk past my 25-year longevity award [painting] on my living room wall," Cindy says. "I wear my 5-year longevity award Five Fingers pendant most days, ever appreciative of the inspiration and spiritual community I have found at so many stages of my life, giving me a strong spiritual foundation."
Where are you now? Let us know!