Zipline catches up with the newest members of the National Alumni Board: Skip Franklin, David Kurtz, Doug Moser and Bill Webster.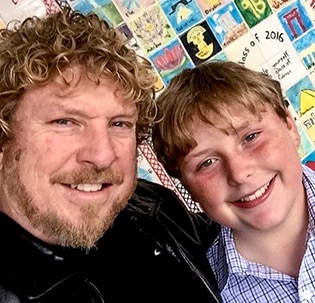 Skip Franklin
Skip was a camper at the A/U Ranches in the 1970s. It was there he climbed Mt. Columbia with counselor-guide Todd Herzer, who kept the expedition laughing the entire trip. Twenty years later, Skip founded MountainZone.com, which sponsored expeditions to Mt. Everest, amassed an online readership of more than a million viewers, and became the first North Face dealer online. "I always think back to that first fourteener in the Collegiate Peaks," says Skip. "What a great opportunity for young adventurers."
In 1992, Skip became co-president of the Seattle DiscoveryBound chapter, along with his wife. The chapter was almost dormant. Within two years, more than 75 teens participated in the chapter's ski trip to Crystal Mountain. Shortly after this trip, Skip joined the Adventure Unlimited Board of Trustees, where he reconnected with trustee mentors such as Tim Potter, Doc Wanamaker, Todd Herzer and John Boyman. During his 12-year tenure on the Board of Trustees, the DiscoveryBound National Leadership Council (NLC) was launched. Skip has had many of his Sunday School students participate in the program to date.
Today Skip is an author, executive coach and marketing strategist for entrepreneurs, songwriters and rock artists.
"What I treasure most in my Adventure Unlimited experience was spending countless hours with founder John Andrews, walking the property and fully appreciating the vision and the spirit behind the organization," Skip says. "What a precious legacy we have to build upon."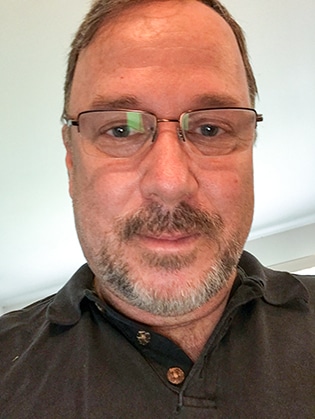 David Kurtz
David grew up in Indiana and attended The Leelanau School. In his sophomore year, he learned of Adventure Unlimited when Leelanau hosted a regional event. The following two summers, he went with his twin brother, Jonathan, to High Harvesters at the A/U Ranches. Following his senior year, just a few days after Cap Andrews gave the commencement address, David was on staff at the A/U Ranches as a wrangler.
"I was thrilled to work for Adventure Unlimited," David says. "Prior to that, I was a dedicated Christian Scientist, but never really knew more than an elementary level. So my four years on staff at the A/U Ranches weren't just lots of fun and wonderful people, but it was the place where I learned and understood Christian Science for the first time."
Since then, David adds, he continued to grow in his understanding of Christian Science. He transferred to Principia in his junior year and returned to the A/U Ranches for a fifth year on staff. He married a woman who was also a student of Christian Science, had CS class instruction, has served as first and second reader and is raising his family in Christian Science. He was also a chapter worker in the 1980s.
David worked in hotel and resort sales for 15 years then advertising sales for the second half of his career. While these have taken him in many directions filled with growth, he says none can compare to the joy and growth he experienced with Adventure Unlimited.
He served on the NAB for a few years and loved it, but resigned to stay home with his daughter when she received a terminal diagnosis. "I put all of my efforts into caring for her and looked for the complete truth about her," he says.
She passed a few years ago, and David feels ready to serve again. "I want to give back what Adventure Unlimited and Christian Science have given me," he says. "I've always held Adventure Unlimited close to my heart. The friends I made over 30 years ago are today my best friends and support group."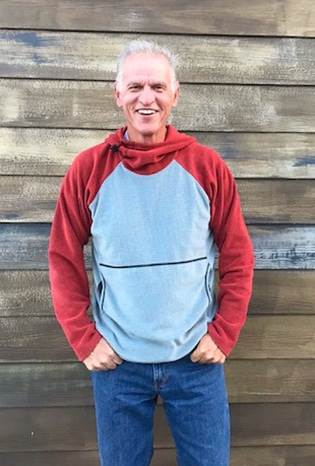 Doug Moser
Doug came to the A/U Ranches a number of times as a camper, and although years went by, he never forgot how much he loved the valley and Adventure Unlimited. He and his wife, Joy, built a house in Buena Vista in 2016 after spending most of the recent past in the Chicago area. "We could not be happier," he says. They love to run, hike and play pickleball. Their extended family includes four daughters and five grandchildren.
Doug has a property business in Amarillo, Texas, where he grew up, and he travels there about a week a month to manage it with his brother. Some winter months find Doug and Joy in Florida, visiting Doug's mother.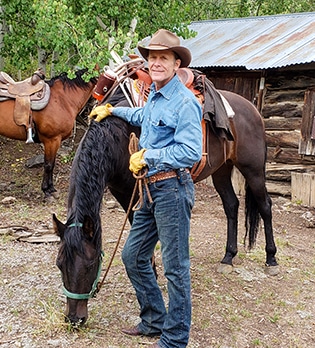 Bill Webster
Including the recent National Alumni Board retreat, Bill has participated in 29 A/U Ranches programs, starting in 1971 as a Hi-Stampeder riding the Adventure Unlimited bus from St. Louis. After two Comanchero programs and a Sky Valley Buckle horsemanship award, Bill became a wrangler for the next six summers, including roles as Head Wrangler at Sky Valley Ranch, Round-Up Ranch and as Head Cowboy in 1979.
In the early 1980s, Bill was involved with chapter work in St. Louis and received a chapter worker award. From 1977 to 1991, he worked the downhill ski programs at camp, including one college week. He also claims he was the only staff member to request two tours as Nellie's kitchen boy.
Bill was a member the first highly successful A/U Ambassadors tour in 1979 and notes that three of the five cast members were summer corral staff. Since then, he's attended the first alumni reunion in 1990, a wrangler pack trip in 2006, the 60th Reunion in 2015, and the Wrangler Reunion this past summer.
After almost 20 years in corporate marketing producing special video projects, Bill became self-employed and currently contracts with mortgage companies in the St. Louis area in an effort to keep people out of foreclosures. He also runs an established event photography company and freelances as a musical entertainer.
Up until 2003, Bill managed his family's cattle farm. He's raised AQHA horses, done some western showing and English Hunter-Under-Saddle shows, and ridden with several fox hunting clubs in the Midwest. These days Bill keeps a Triumph steel horse in the barn. He has two grown kids, two young grandkids who call him Bronco, and yes, he says, his father is Judge William Webster.
Where are you now? Let us know!