Zipline catches up with alumni from the A/U Ranches, the A/U Chapter program (now DiscoveryBound Outreach), and DiscoveryBound's National Leadership Council.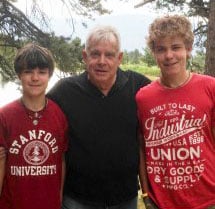 Thomas Ostenberg
Thomas, who first attended Sky Valley Ranch for two years when he was about 8 years old, is a bronze sculptor working in Santa Fe, NM and London, UK. He's also a single dad of two sons (12 and 14).
"My association with Adventure Unlimited and the A/U Ranches is very special to me," Thomas says. "My parents were friends of Cap and Marianne Andrews, so my two brothers and several cousins had already attended the camp. I was excited when it finally became my turn. At that time Round-Up Ranch had not yet been acquired, so it was an all-male experience, which prepared young boys to become principled young men. It was a wonderful time where spiritual growth in those incredible mountains was accompanied by forming lasting relationships."
After college, Thomas spent the summer working as a ranch hand at the A/U Ranches, which he says was also a time of growth. He then moved to Palo Alto, California, where he earned an MBA at Stanford University. His first career was in the international financial world as a corporate bank executive in Brazil and Spain. After nearly 12 years, he became a freelance financial advisor, which gave him time to "contemplate the future," he says.
This resulted in a shift to a career in art, beginning with studies at the Kansas City Art Institute and then earning a masters degree at The Royal College of Art in London. Since then, Thomas has been a full-time sculptor, exhibiting at galleries throughout the United States, Europe and South America. His work is also in several museums and private collections (you can also see it here: www.thomasostenberg.com).
Thomas and his sons have been attending Youth Camp and Family Camp for nine years, and his older son is in the DiscoveryBound National Leadership Council Class of 2020T. "I am so pleased that both boys love the A/U Ranches," he says. "They get excited as the time to attend approaches to return to their home away from home. They have formed friendships with other like-minded children who I believe will be important for the rest of their lives.
"Most important to me is that they think of themselves as Christian Scientists," he continues. "I know from personal experience that this foundation will be there for them no matter what twists and turns the future will present."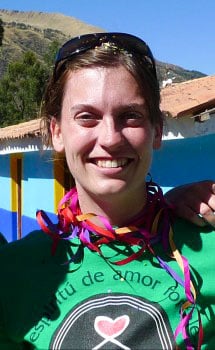 K.C. Morris
K.C. became connected to the A/U Ranches when she moved to camp in 2009 after marrying Aaron Morris, who was the Round-Up Ranch camp director at the time. While living at camp, K.C. worked for the 100 Elk Outdoor Center, corralled the kids during Christmas Camp, and supported other camp activities. In 2011, she paired up with Sedge Southworth to lead DiscoveryBound's National Leadership Council (NLC) Class of 2015 West, an activity that taught her much about trust, humility, and deep love for mankind, and which kept her connected to the A/U Ranches and DiscoveryBound even after she moved away from camp.
Since leaving camp, K.C. and Aaron have settled in Saint Paul, Minnesota, via adventures on safari in Tanzania and on dogsleds (with Adventure Unlimited friends Lachlan and Linda Clarke) in Alaska. K.C. is a third grade teacher and University of Minnesota student, where she is pursuing a masters of literacy education. When she is not reading, she is usually running around the neighborhood lake or pulling weeds in her new garden.
K.C.'s time at camp and her time with her NLC teens rank high on her list of life experiences. She says, "I am grateful every day to have had the privilege of watching a group of Christian Science youth come together to serve others according to Christ Jesus' example. Spiritual growth, the opportunity to step outside one's comfort zone, and gratitude for God's care and provisions have been a natural part of each A/U-DB activity I have been blessed to experience."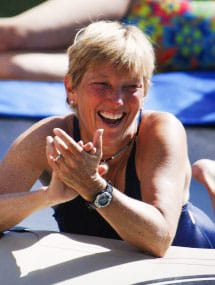 Deb Eastwood
Deb Eastwood lives in Grenada, a small island in the Caribbean, north of Venezuela. But that doesn't keep her from coming back to the A/U Ranches each summer. She started working with A/U chapters in Michigan in the late 1970s and has continued mentoring, camp directing, and running DiscoveryBound programs – including involvement in the National Leadership Council (NLC) – ever since. This summer, she came to the A/U Ranches for third session as a bunkhouse mom, and she is running Kids Camp during Family Camp.
Deb has loved watching kids grow, whether through camp or the DiscoveryBound programs, and she continues to stay in touch with them as adults.
Deb and her husband, Phil, invite you to come to Grenada for National Learn to Swim Week, April 18-22, 2017, where she has started a program to teach Grenadian kids to swim. Since ninety-five percent of the island residents don't know how to swim, it has become Deb and Phil's passion to make that number much lower. Sixteen Christian Scientists participated last year; to learn more, visit www.nltswgrenada.com or email [email protected].