Zipline catches up with the six newest members of the National Alumni Board (NAB): Brooks Anderson, Buff Colarossi, Skyler Grossman, Virginia McNamee Pendleton, Heather Shotwell and Vangie Swan.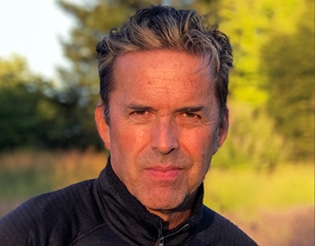 Brooks Anderson
Although never a camper at the A/U Ranches, Brooks was drawn to apply as a counselor in mountaineering in 1978. Being involved with Adventure Unlimited as a young teen in his local Los Angeles chapter, perhaps it was a traveling camp show that inspired him to apply. After being accepted to work there, his first trek to the A/U Ranches was in a cramped sedan with three other summer counselors. 
His love for the mountains, for kids and for Christian Science made it a wonderful fit. Having never climbed anything close to a fourteener in Colorado, he gained an instant respect for the awe and immensity of what it looks like from the summit of a peak with a bunch of cheery young teens under his guidance. 
After a couple of years of mountaineering staff (as well as High Harvesters one summer, when he taught painting), he decided to take a late summer ride on horseback before summer camp closed in 1979. He was smitten with what the trails and ridges around camp looked like from the back of a horse. For the next four summers, he would come back as a horsemanship counselor, as he found that taking kids on rides and working with a phenomenal corral staff was the greatest experience he could imagine. (Even shoveling pucky around the corral at the end of the day was always sweeter with a John Denver song playing on the old corral radio.) 
After graduating from college, Brooks got married, moved from Southern California to Santa Rosa (north of San Francisco) and became a dad to three wonderful daughters. "I've been fortunate enough to do what I love all these years: being a full-time artist, where I exhibit my paintings in three galleries around the country," he says. He still lives in the same house, with his youngest daughter, Barrett, and is excited to be teaching Sunday School to some "awesome kids."
Brooks feels the experiences of being in charge of a cabin of young teen boys all summer, and the responsibilities as a program counselor, allowed him to become even a better parent to his daughters — two of whom have enjoyed the A/U Ranches during summer sessions.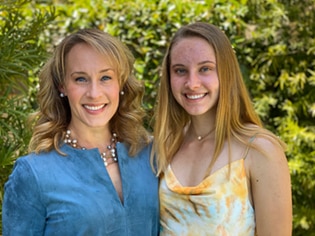 Buff Colarossi
Buff's first time at the A/U Ranches was during the summer of 1982, when she was a camper in the Challengers program. She was at Sky Valley Ranch (younger campers) for two years, spent two years at Round-Up Ranch (high school campers) where she majored in rafting and tennis, and didn't return again for a program until the 50th Reunion in 2005. It was during that time that she and her husband, Richard (a former NAB chair), truly reconnected with Adventure Unlimited, resulting in a 10-year-long consecutive run of attending Family Camp. 
Their decision that summer of 2005 changed the trajectory of their children's lives, focusing them on Christian Science, a new sense of family and making the A/U Ranches their "happiest place on earth."  Their children, Dean and Ellison, have been recent staff members in the rafting program and spend as much time as possible at "home" at camp.  Buff has also spent many years as a bunkhouse mom and loved every second of being with the kids at camp.
Buff, Richard and their family reside in Dove Canyon in Southern California and are new empty nesters, spending much of their time with their two mini goldendoodles, Aspen and Autumn. She is a graduate of Principia College, where she majored in communications. Before motherhood, Buff worked as a wedding planner and eventually became a meeting and event planner, booking hotels and meetings around the country. 
Both Dean (2017) and Ellison (2020) were part of the DiscoveryBound National Leadership Council (DB NLC), and Buff was a mentor for a member of the 2018C class. Currently she serves as president of The Highest Peak Foundation, which is focused on helping youth obtain experiences that might otherwise be out of their reach, and to fulfill dreams of heightened potential.  
Buff looks forward to her new role on the NAB and to working with such a diverse group of individuals.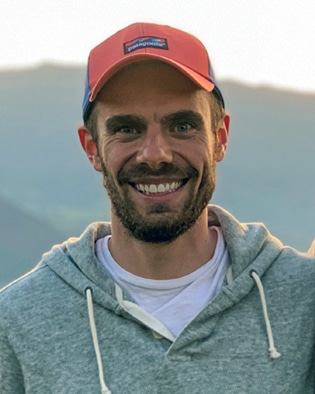 Skyler Grossman
Skyler has been a part of A/U Ranches and DiscoveryBound programs since the early 2000s. As a camper, he participated in the corral, rafting and DB National Leadership Council (NLC) programs, and as a counselor he helped run NLC, mountain biking, soccer and challengers. DiscoveryBound participation throughout high school took him across the country for national and regional events, and he was a member of the inaugural NLC class (2005-2009).
For the past seven years, Skyler has lived in San Francisco, where he's worked at LinkedIn, Eightfold (an artificial intelligence start-up) and most recently Even, which provides financial services and technology to help Americans create a better and more stable life. Prior to San Francisco, he attended Claremont McKenna College, graduating with a double major in economics and government. 
The A/U Ranches has always felt like a second home. With family in the area, Skyler regularly travels to Colorado and Buena Vista, often visiting the camp and saying hello to old friends. He's excited to strengthen his support of camp through the National Alumni Board and its work.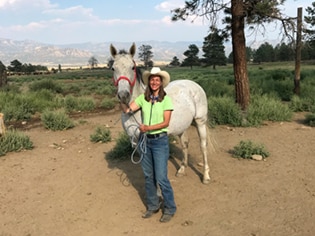 Virginia McNamee Pendleton
Virginia's first experience at the A/U Ranches was Hi-Stampede 1973, when she climbed her first fourteener (Mt. Yale), rock climbed at Turtle Rocks, river rafted, played capture-the-flag and swam in Pucky Pond on horses, experienced "Alone With Your Thoughts," dances and even dared a night raid on the boys' old Nugget cabin.   
It was truly an adventure unlimited, she says. Even more meaningful than the pure enjoyment of the exciting and challenging activities was making lifelong Christian Science friends from across the country and gaining spiritual inspiration from witnessing and experiencing Christian Science practice in everyday activities. 
"After one week at the A/U Ranches, I was completely, utterly, hopelessly hooked," Virginia recalls. "Tears rolled down my cheeks as our bus, loaded with kids from Oklahoma and Texas, pulled away from Valerie, heading home. I vowed to return."
Over the next four decades, she did return as a Round-Up Ranch (RUR) camper, RUR and Sky Valley (SVR) Corral Staff, family camper, bunkhouse mom, staff reunion participant (as well as the Wrangler Reunion), Christmas Camps, and several horse Mini Camps, most recently this past summer (2020). 
When not at camp, Virginia lives in Oklahoma with her husband, Scott. They have two adult daughters, Emma Jane and Marina, who attended camp many times as family and youth campers in the horse programs. Marina also worked in the RUR corral in 2012.
With a long history and deep love of Adventure Unlimited, Virginia says she's honored and happy to serve on the NAB.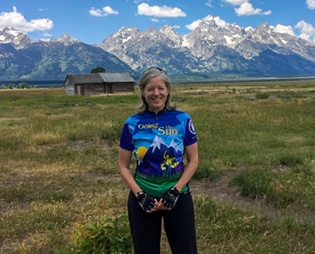 Heather Shotwell
Heather's first experience at the A/U Ranches was as a camper in the 1970s. The camp experiences of hiking, rafting, horseback riding and cabin skits were phenomenal, but it was the joyous atmosphere and example set by staff who demonstrated Christian Science that made the most lasting impression. 
After attending Principia College, Heather lived in New York City, where she worked in corporate communication in the financial services industry and earned a master's degree at New York University. While there, she met her husband, Mike, at her branch church. Later, she moved to California and raised her children, Mia and Drew. The family also lived in England for 2 1/2 years. Heather now lives in St. Louis, and served as the marketing writer at Principia College for nearly seven years. 
Along with her family, Heather has attended Christmas Camp, Family Camp and regional DiscoveryBound programs. Drew thrived at Youth Camp and completed DB's National Leadership Council program. Both Mia and Drew loved serving as counselors at the A/U Ranches, and Drew has served on staff during Christmas Camp. The whole family especially values the inspired and inclusive atmosphere at Christmas Camp.
Heather and her husband participated in the 2020 DiscoveryBound adult backpacking program at the A/U Ranches, loved sleeping in a yurt, and peaked a fourteener – Huron! 
She is so grateful for all that the A/U Ranches and DiscoveryBound offer children, teens and adults, and looks forward to serving on the National Alumni Board.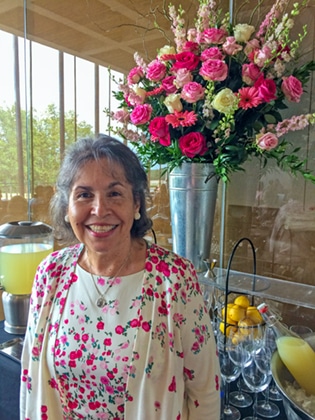 Vangie Swan
NAB is another "returning with gratitude" to active work for Adventure Unlimited. Vangie's adventure began while at university with her first fantastic week at College Stampede. Little did she know that that week she met her husband (Bill Swan), who loved Adventure Unlimited and had worked with Cap Andrews and Scott Putnam opening many A/U chapters and whose dad (Alex Swan) served as a trustee. 
Before they were married six years later, Vangie worked as a counselor for several summers. Her favorite memory is doing wrangler breakfasts with Rusty Signor. She next served as chapter advisor for the Tacoma region and then helped begin a new chapter in the San Fernando Valley in California. She filled in at a regional director's meeting with Tim Potter one year and learned about the wonderful work across the country.  She now follows the path of her daughter J.J., who served on NAB for seven years.
Three beautiful children, Jennifer (J.J.), Michelle and Andy, spent many summers at camp. As a family, they worked many fun Christmas Camp sessions with Bobby Lewis and finally celebrated a family Christmas as guests. Spontaneous visits to the A/U Ranches to volunteer with hands and heart marked her cross country visits to family and friends.  A dream is that her grands (six of them now) all have A/U Ranches experiences. She just learned her grandson Bennett already has NLC on his calendar! 
One of many special A/U Ranches friendships was with Lachlan Clarke and his Iditarod team. Vangie's global connections class (middle school world geography) followed Team Clarke. Vangie loved her career as a middle school teacher and taught at several schools in California, followed by 12 years at Principia.
To join NAB feels very natural as another "return with gratitude" to build upon cherished memories and friendships.
Where are you now? Let us know! Email [email protected].