By Glenn Grow, National Alumni Board
She climbed Colorado's 58 14,000-ft peaks in a year and a half while running 50-mile races and carrying a full college course load. This is Annie Hughes, a remarkable mountaineer, ultra-athlete and alumna of A/U Ranches Family Camp and Camp Kohahna, who has taken her love of the outdoors to extremes. Literally.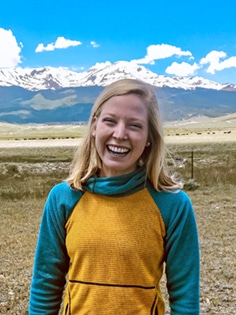 Annie placed third in the Leadville 50-mile trail running race. Third. Think about that. Against elite runners from around the world, and she placed third overall, not just in her 20-something age group.
Annie's quest to climb the fourteeners began in 2018, when the heavy snowfall prevented her from her goal of hiking the 486-mile Colorado Trail. So, she invited some friends to climb Mt. Princeton with her. When no one was available, she asked her dad (National Alumni Board member Doug Moser) to take her to the trailhead before dawn to wait for other hikers.
"Nobody showed up for quite a while," she recalls. "Then the lights turned on in the van in the corner of the parking lot. Dad knocked on the window and asked the guy – who was a little surprised – 'Would you let my daughter hike with you?' This guy, Tim, it turns out, was climbing all the fourteeners in Colorado, and he was very inspiring. We became good friends and talked a lot during that climb."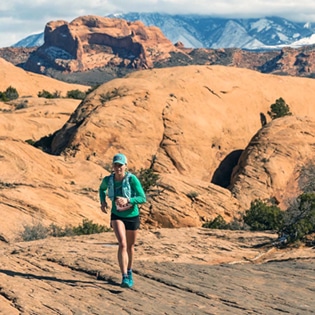 As quickly as changing a drink order at a café, Annie dropped the idea of hiking the Colorado Trail. "Instead, I had this goal to climb the fourteeners, so I just focused on that. I got in my car, would go to the trailhead, and climb. I did a couple 50-mile races in there as well."
The toughest peak
Annie delights in telling her "most challenging fourteener" story: climbing Little Bear Peak in winter.
"The rock fall is dangerous, and there is no easy way to climb it," she relates. "One route is a 5.4, technical climbing. You must bushwhack over three miles… a lot of cactus, scrubby trees, and it's hard to navigate. If you're not careful, you can end up on another ridge.
"You have to start at 3 a.m., so you're navigating in the dark," Annie continues. "We made it up through the bushwhacking and then a really, really long boulder field with false summits. Finally, on the ridge, there's a 1,000-foot drop on either side for over a mile. It is super exposed. The climbing itself is not difficult but you cannot fall."
They hit a big snowstorm on the subpeak, called Mama Bear, and had to turn around. But she returned to Little Bear that same winter, this time with a friend who was new to climbing. 
They reached the summit and then headed down the standard route, called Hourglass – essentially a snow wall with ledges in the winter. Passing another party of climbers ascending the Hourglass route in the deep snow, Annie remembers thinking they could walk down in their steps. 
"We did not have crampons, only micro-spikes and an ice axe – we had tried to go light," she says. 
As it turned out, the conditions became pretty icy in one section, so despite the climbers' mantra never to use fixed ropes, they used some they discovered on the way down.
"We grabbed the ropes in one hand and ice axe in another, sliding and lowering ourselves down, with the rope frozen into the ice," Annie relates. "It was intense." Finally, they got down to a part where they could put on their micro-spikes and then inch their way to a sunny spot.
"If we did not have the ice axes, we would have had to call search and rescue," she says. "It did not really hit me what a dangerous situation we were in until afterward."
In fact, at one point, Annie was almost hit by a falling boulder. "I heard [something that sounded like a] bird, and it was a microwave-sized rock flying down the mountain," she says. "The rock just missed my left ear! I really got a lesson."
Higher education
Originally from Wisconsin, Annie moved to Buena Vista, Colorado, her senior year of high school. Despite the obvious dangers of her fourteener challenge, Annie says, "I have never felt more at home than in Colorado. My life changed in moving here because I really discovered what I want to do." She is pursuing her degree in Outdoor Leadership at Colorado Mountain College, where she will combine that with a business component.
"I have made so much progress this last year. It is crazy how fast I have been able to take off," she says, with typical understatement.
As for Annie's future, she hopes to become a full-time mountain guide. She traveled to Ecuador this past winter and climbed mountains there; one was 19,000 feet and another more than 20,000 feet.
"I am inspired by those kinds of mountains," she muses. "I would start [guiding] with Rainier or Denali, but I loved Ecuador."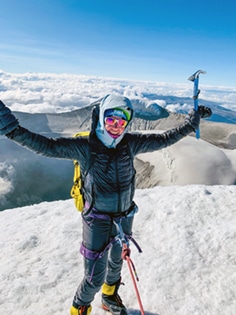 Two climbers have greatly influenced Annie as mentors. "In Ecuador, Esteban Mena – nicknamed 'Topo' – is one of the best mountaineers in the world," she explains. "Six times he climbed Everest and peaked K2 once last year. His wife, Carla, is the first American woman to climb Everest without oxygen. Carla especially is a mentor and role model because she is a woman, and there are not many women mountaineers."
You can find Annie staying in shape by cross country skiing in Leadville, but she often comes to the Buena Vista valley to run. "Trail running comes naturally to me, but I am always intrigued to test my limits and see how far I can go, what barriers I can push through. That is why I do it – to test my limits."
Although the Mountaineering Reunion has been rescheduled for 2021, Annie still hopes to be there next year as a speaker and to lead a peak climb. Stay connected with your fellow mountaineering alumni on social media: Facebook and Instagram.