I've never been to LA and it is one of my dreams that came true this weekend. Making new friends and seeing old ones are always the best. Warner Brothers was amazing! And the two speakers are so uplifting and I'm inspired.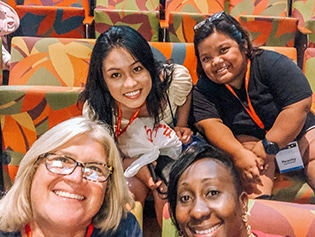 The adult participant who shared the gratitude above had just spent Labor Day weekend (August 30 – September 2, 2019) with 24 other adults in Los Angeles for the DiscoveryBound Outreach National Annual weekend. The joy of feeling inspired and connecting with peers in the Christian Science community echoes other gratitude we heard from teens:
Beyond grateful for this opportunity and being able to go to a Christian Science event this year… couldn't make it to camp. I always find myself inspired and in a better place mentally. Thank you from the bottom of my heart.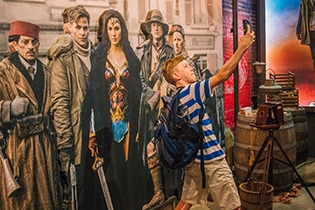 Teen and adult tracks (the latter full with a waiting list) allowed each group to explore, in their own activities, the weekend's metaphysical theme from Science and Health with Key to the Scriptures by Mary Baker Eddy: "God is not separate from the wisdom He bestows. The talents He gives we must improve."
Saturday morning inspiration kicked off with a keynote talk by actress and Christian Scientist Natalija Nogulich on how she learned about Christian Science and the ways it's been a blessing to her. You can watch a video of her engaging 50-minute talk here (also found on the National Annual weekend event link above):
After Nogulich's talk, while the 49 teens – which included 10 students participating in the first retreat of their DiscoveryBound Compass one-year program – and their 13 volunteer chaperones attended workshops from five entertainment industry professionals, adults listened to the first workshop and then toured the Walt Disney Concert Hall. Both teens and adults checked out the Hollywood Walk of Fame, with teens then heading to Santa Monica Beach while adults visited the Griffith Park Observatory.
As with all DB Outreach weekend events, the group went to church and Sunday School on Sunday. This was followed by a tour of Warner Bros. Studios and a pool party hosted by a DiscoveryBound friend at her home – both highlights of the weekend for many participants.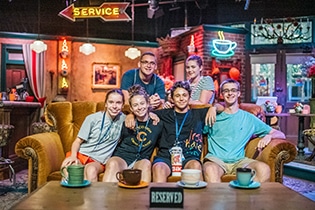 The weekend was a blessing to both participants and chaperones like this one, who shared gratitude for the supportive atmosphere DB provides:
What a joy to finally give back to the organization that I've loved and cherished since I was a teen attending my first national event, Focus on Entertainment in Hollywood, in 2009! DB has been one of the biggest blessings in my life, from local, regional and national events to NLC [DiscoveryBound National Leadership Council]. I dreamed of getting to chaperone the moment I got to the airport after my last DB event as a teen – so to finally be able to do so was incredibly exciting and special. Thank you so much for your passion in serving Christian Scientists of all ages. It makes a vast, unreachable world seem not so far out of grasp. All my love!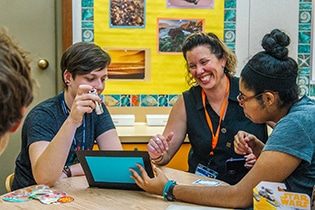 Be sure to watch for news of next year's National Annual weekend – the adult track fills quickly! For a visual summary of the LA weekend, check out our photo gallery.
Thank you to Asher Student Foundation and other partners, who generously underwrote this event to make it affordable for all participants, and for the many donors who contribute to DiscoveryBound scholarships so that financial aid was available. If you'd like to support events like these, you can make your gift here: Donate to DiscoveryBound.