What does it look like when you combine a TMC College Summit, a DiscoveryBound (DB) Outreach National Annual event, and a DiscoveryBound Compass fall retreat in Boston? Christian Scientists from all over the country gathering in one location to see and hear firsthand from staff at The Mother Church, Longyear Museum and, most importantly, each other!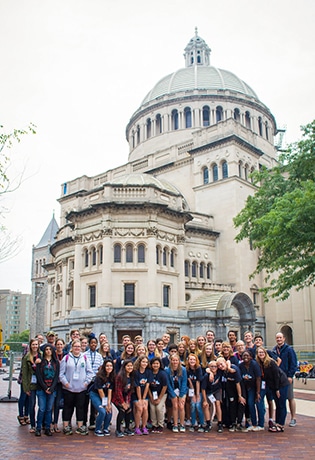 In August, 20 adults – along with 31 teens, seven chaperones, eight staff members and one practitioner – enjoyed a mini vacation to Boston. The trip was filled with excursions to local attractions (including The Mother Church and Longyear Museum), time on a Boston Harbor Cruise and spiritually focused discussions on the theme, "Eternal Truth is changing the universe" (Science and Health with Key to the Scriptures, Mary Baker Eddy, p. 255).
"It was inspiring to see a group of teens arriving as strangers and leaving as a family," DB Compass guide Ty Bennett shares from the trip.
The DB Compass fall retreat for 10th- to 12th-graders was held in conjunction with the DB Outreach event. Word spread to a nearby Christian Science camp about the one-year DB Compass program, resulting in two new members being added following the Boston trip, for a full group of 12 teens. The Compass teens were able to grow and get to know each other while participating alongside the DB Outreach events. And in addition to enjoying the social interaction, participants reported healings related to delayed flights, knee and neck pain, personal issues, rejuvenation and depression.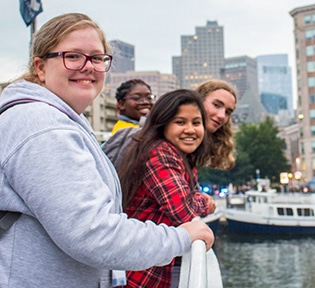 The itinerary allowed adults and teens opportunities to explore activities together or separately. For instance, younger teens toured The Mother Church while older teens enjoyed lively lectures and discussion sessions with the College Summit during the day. Adults toured Longyear Museum; another day, the entire group joined in a harbor cruise in the evening. The cruise allowed everyone time to join together with dancing and games, while enjoying beautiful views of the Boston Harbor. The cruise ended with 5 minutes of quiet reflection time, before the group joined hands and sang the hymn, "Satisfied" (written by Eddy).
"It was really wonderful seeing Boston the way Mrs. Eddy saw it," says an adult participant. "Experienced tour guides showed us meaningful places in Mrs. Eddy's journey, including the bookstore that sold the first copy of Science and Health with Key to the Scriptures."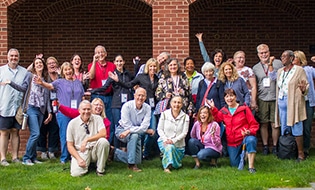 This is the fourth year DB Outreach has provided an adult track during its National Annual weekend, and this year the track was full at 20 adult participants. Of those 20 participants, 17 had never participated in this type of DB Outreach adult event.
"I'm grateful DB Outreach offers opportunities for adults to meet new like-minded friends and interact with the teens," the adult participant adds.
Partnering with The Mother Church's Church Activities Team and the Longyear Museum in providing much of the content for the weekend was a blessing for all involved, says Susan Barner, DB Outreach and Compass director. "This event – visiting The Mother Church, Longyear, and exploring Boston – is the most important weekend during the year offered through DB Outreach, and an important retreat for DB Compass," Susan says. "We're also so grateful to Asher Student Foundation, which generously supports DB Outreach National Annual weekends."
Did you know that about 75% of funding for DiscoveryBound Outreach programs comes from donors? If you'd like to help support these activities, you can donate here.
Ready to be part of a loving social atmosphere with other adult students of Christian Science? Check out our adult programs here.